We're revisiting the Best of Hot Press 2019! Back in September, we caught up with Dermot Kennedy ahead of the release of his chart-conquering debut album, Without Fear. Ireland's newest global superstar opened up about religion, hip-hop, sneaking into festivals, the importance of Michael D Higgins and the journey to his stunning debut.
The story of a Dublin busker's rise to fame has been heard before – but it's rarely happened with the kind of velocity that's propelled Dermot Kennedy to international stardom. From uploading independent releases on Spotify and belting out Ed Sheeran covers on Grafton Street just a few years ago, the Rathcoole native – armed with a voice like golden gravel and some of the most viciously honest lyrics in contemporary pop – has fast become a mainstay on headline slots around the world.
From a first glance at the fresh-faced young man sitting in a quiet corner of Aungier Street's Lucky Duck, you wouldn't suspect any of that at all. Well-mannered, articulate and sipping on a herbal tea, he appears to be taking the skyrocketing trajectory of the past few years well in his stride. Either that, or he's still in a serious state of shock.
"I actually felt strangely calm at Electric Picnic, and I don't know why," he smiles, recalling his stunning homecoming set, which attracted one of the biggest crowds of the weekend. "Last year was different, because I didn't know what to expect. I was real nervous, and I was kind of pissed off when I got off the stage – because I was thinking, 'That was good, but I didn't live it'. We had the Dublin Gospel Choir come on and everything, and I didn't even look at them because I was just trying to pull through it.
"This year I didn't feel nervous, maybe because everyone around me was solid. I'm really grateful that I was able to take a second to look out at the audience this time, and
take it all in."
Advertisement
THRILLING NEW VERSION
He may be ready to headline Electric Picnic these days, but it wasn't so long ago that Dermot Kennedy was attending the festival. And not exactly as a paying customer either!
"Me and the lads skirted the perimeter for ages," he recalls, laughing. "Eventually we were like, 'Fuck it, we better jump the wall here'. Then we were in the forest, and we were lying down, crawling on our bellies. We finally made it to the campsite, and we thought we were home and hosed – until we turned around the corner and saw there was a proper single-file wristband check ahead.
"They put us in a van with other people in the same scenario, telling us that they were going to bring us somewhere where we might get fresh wristbands – but they dropped us in the middle of Stradbally and drove off. So we got kicked out in a really clever way, but it was still brilliant – probably better craic than the festival could have ever been."
With those wild days behind him, Dermot took to the Main Stage on Friday, following one of the biggest pop sensations on the planet, Billie Eilish. That'd not be an easy feat for most – but luckily for him, Billie's a big fan. In fact, for a perfect visual representation of the power Dermot wields over his fans, look no further than Billie's reaction to his single 'Young & Free' on YouTube.
"I don't even have words," she says in the clip, struggling to pick her jaw off the floor. "Who was that? Yo, I met him! That's what he sounds like? Whattt? God, that was like the most powerful voice I ever heard."
Advertisement
"I met her at SXSW last year, before the whole Billie Eilish global takeover had really happened," Dermot explains. "We played five gigs in Austin that week, and she played either before or after us for four of them, so we were following each other around town all day.
"There seems to be a really solid support system behind her, because she's very grounded through all of it. It's got to be chaos – I can't even imagine."
That kind of chaos could soon be on the way for Dermot himself, as he gears up for the release of Without Fear – one of the most hotly-anticipated Irish debuts of the past decade. As a sneak listen to the stunning, no-filler end product proved, things are about to step up more than just a level for the Dubliner.
Including tracks penned back when he was 18, the album powerfully documents his journey as an artist over the last decade or so – opening, suitably, with a thrilling new version of 'An Evening I Will Not Forget', kitted out with added trap hi-hats and a vocoder.
"When I stopped being in a band, that was the first song I made," he explains. "It's also the first song I brought out on this project. It's the song that really encapsulates everything in my life – it's nostalgic, hopeful, sad, uplifting. There are so many songs where you focus in on one topic, or person, but this one for me encompasses everything.
"Musically it's a good representation of what I'm trying to do, and it shows what I want to be. Ending the album with 'Without Fear' is the same deal. Having them bookend the album feels good."

Advertisement
STARTING FROM ZERO
Dermot Kennedy's dark brand of folk-influenced indie-pop takes more than one unexpected turn on the album – with his penchant for hip-hop still firmly in place. A diehard hip-hop head, he found a kindred spirit in one of the genre's super-producers, Mike Dean – whose fingerprints can be found on masterpieces by everyone from Scarface to Kanye West.
"Mike's constantly working – and he's constantly stoned too," Dermot laughs. "All day long – from the moment you go in at 10 in the morning to the moment you leave at 10 at night. It's a state he constantly lives in."
Beginning with an early spiritual awakening in the form of 50 Cent's Get Rich Or Die Tryin', hip-hop has been as much of an influence on Dermot's musical journey as Bon Iver or Damien Rice.
"I was 13 when I got 50 Cent's first album," he recalls.  "It was so good, and from that I started listening to Jay-Z and Eminem. I've had a serious love for it for ages.
"About three years ago I had a song called 'A Closeness' and we put this really heavy, hip-hop style beat over it. It just felt awesome. I remember listening to both demos – with and without that beat. Without the beat, it was just me playing it very safe in my comfort zone with guitar and vocals, trying to be Glen Hansard. With the beat, I was definitely nervous, but it was more exciting to me. To do something unique, but not in a forced way, felt great. From then on, that's the sound that I chase."
While the lyrically dense nature of his songwriting certainly pays homage to his rap heroes, don't expect to hear Dermot spitting a verse on his next album.
Advertisement
"When I'm in the studio, I'm very aware of when I'm crossing the line," he says, carefully. "I'm aware of when it becomes cheesy. It's happened before, believe me!"
Like Ed Sheeran's oft-mocked forays into hip-hop?
"100%," he nods. "Even on that new Stormzy one, he does it and you're like, 'eh, yeah…' But I've been there. There have been bits of my songs that essentially have a hip-hop flow when I'm delivering the lyrics. Hip-hop influences me in a subconscious way. But it's very obvious when you're taking it too far."
This level-headed approach to his craft has guided Dermot since his independent days. Despite world acclaim now, he hasn't forgotten that early struggle.
"I had nothing going on," he recalls. "I remember sitting around at home, awkwardly telling people that I'm a musician. Then Spotify started taking off, and my plays started going from a few a day to 50,000.
"I was in Switzerland at the time, playing covers in a bar for five nights. I had nobody around me, and I was fielding all these calls and emails from managers, publishers, labels and lawyers trying to get in touch. It got to the point where I didn't get a chance to even think about music for two weeks."
After securing a manager, Dermot was in no rush to sign a major record deal. His Spotify success gave him a sense of independence. It also allowed him to book gigs in New York, LA, London and Dublin on his own steam.
Advertisement
"It was all built up independently," he explains, "But eventually you reach a point where you realise that tour bus hire to go across America is $50,000, and obviously you can't pay that by yourself. So after hitting that wall, we had to make the next step – and sign a deal."
Of course, he's also well aware of many artists' criticism of streaming culture.
"I get it," he says. "If you're a band like Snow Patrol, who used to sell a rake of albums and now you don't, it can be pretty jarring to find yourself relying on streaming. But for me, it's only been positive, so I can't complain. A lot of people say you don't get paid enough from Spotify, but when you're starting from zero, like me, it's definitely enough."
SELF-DESTRUCTIVE CYCLE
Dermot's rapid journey from zero to hero would be enough to send even the sanest among us off the rails. But with a solid support base back home in Rathcoole, he's unlikely to be making the front pages with a tabloid scandal anytime soon. Indeed, he is well aware of the importance of mental health issues.
"I've had the same group of friends since I was 11," he smiles. "Only recently we had a conversation in our WhatsApp group where we were saying, 'Look, if any of you are ever feeling a shitty way, just talk'. It's so important. When you're growing up, you can feel bad, but not necessarily recognise those feelings, and for some reason it's always been a very stupid, laddish, thing not to talk."
His family have also been supportive of his decisions from the outset – in both music and life.
Advertisement
"My mam's a very thoughtful person," he says. "Her and my dad wouldn't be religious. I remember being at Mass at Easter or Christmas, and my mam wouldn't get up for Communion. I was like, 'What's your problem, this is the thing you're supposed to do!' She's a class example of just doing whatever the fuck you want to do, and not adhering to certain things just because you feel like you should."
And his own religious beliefs?
"It's hard to know what to believe," he muses, cup of tea in hand. "I'm definitely not the person to say, 'you die, you go into the ground and you're done forever'. If I was that kind of person, I probably wouldn't write songs. Something's got to happen. I actually think quite a bit about how I want to be treated when I die. Going in the ground is the scariest thing I can ever imagine. Considering that we have no clue what happens when you die, I can't write off the idea that people in the ground are somehow aware of it.
"Whenever I say that I don't believe in God, the tiniest part of me is like, errgh. If God's real, then that's an X on my card! I believe in spirits and I believe in different presences being here still. There are too many signs you see and things happening that seem otherworldly. You also hear about people taking certain hallucinogens, and they literally go somewhere else. I feel like this is such a tiny corner of what life is."
That being said, Dermot's in no rush to head off into the desert to take a load of peyote before recording the next album – nor would you have been likely to find him drinking cider in a field in the backarse of Rathcoole when he was a teenager.
"I genuinely didn't drink until I turned 18," he says. "When people were starting to at 15 or 16, I just wouldn't do it. I don't know why, really, but it's important to have things like that that you stick to in life. I was trying to do music, too, so I did have other things on my mind.
"I was never into the college parties either. Even in subsequent years, I did the whole Coppers thing, but I hated it! I went just because the lads were going. I remember countless nights out in Naas or Dublin, standing on the street waiting for a taxi at four in the morning, freezing, with tinnitus ringing in your ears. I'd be like, 'Why am I doing this? This is not a good time!'"
Advertisement
While his commitment to avoiding the music industry's self-destructive cycles has clearly worked in his favour, there were also other forces at play in Dermot's meteoric rise – including a couple of shout-outs from the likes of Taylor Swift.
"She's clearly a brilliant songwriter and has her head screwed on musically," Dermot says of the multi-platinum popstar's endorsement. "But honestly, Hozier mentioning me on Today FM was 100% a bigger deal for me. That's who I look up to, and that's the kind of artist I want to be respected by."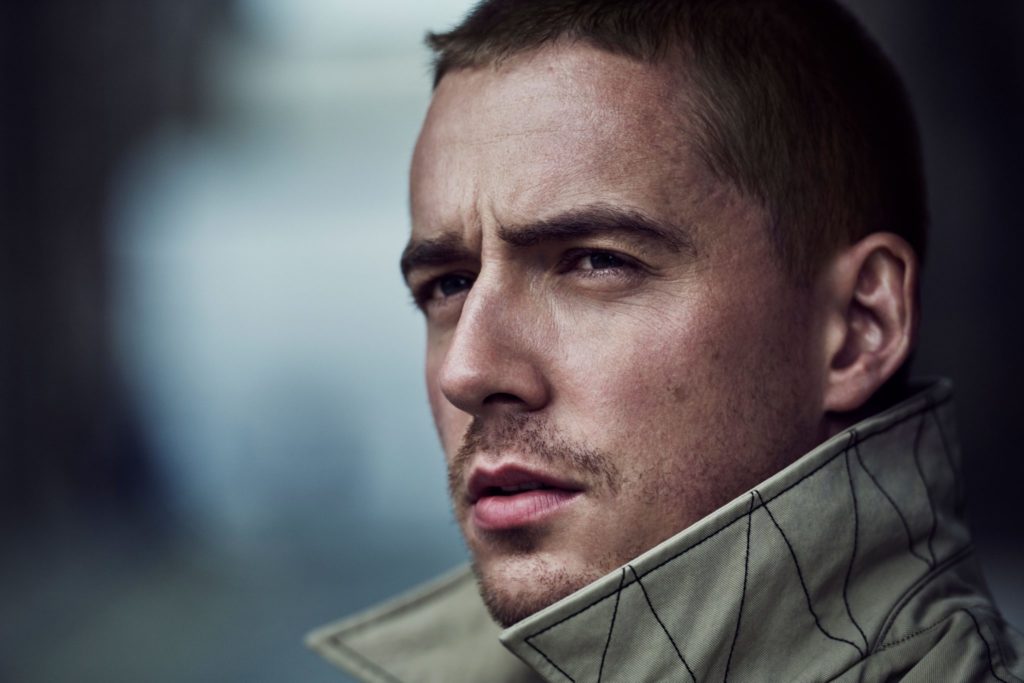 PRIMED AND READY
Like Taylor Swift and Hozier, Dermot is fast-approaching that pinnacle of success in which his opinion on everything from Brexit to climate change will be making headlines. While he's yet to pen a political anthem, the thought has crossed his mind.
"I've been thinking quite a bit about how shaky and volatile the world is right now," he considers. "My songs are about human emotions and the human experience, but I've looked at how Hozier can comment on culture, the world and politics with songs like 'Take Me To Church' and 'Nina Cried Power'. Art is so important for the world, especially in times like these. But at the same time, you don't want to force it. If it feels natural, it's definitely something I will do."
President Michael D. Higgins shared a similar sentiment in his specially recorded message that was incorporated into the start of Dermot's Electric Picnic set. As expected, Miggeldy's wise words about the importance of artists inviting us "to celebrate who we are" and "to aspire to become a better version of ourselves" provoked a cheer louder than some headliners.
Advertisement
"He's so unanimously loved," Dermot beams. "When we got the speech we were like, 'Fuck yes – everybody's going to love this!' I met him when I played an Other Voices gig in Berlin. It's amazing that he gives a shit about things like this. What a cool President to have. I got multiple comments on the video of the speech from people in America saying, 'Wouldn't it be nice to have a President like this?'"
While moments like those are certainly the high points, there's no denying that life as a gigging musician takes its toll, too.
"For sure – both physically and mentally," he nods. "You've got to look after yourself. People are always like, 'Isn't it mad the way you don't drink much – when back in the day the musicians were all so wild?' Well, back in the day they were selling records, so they didn't have to tour non-stop like we do!
"It really struck me when we played Seattle," he reflects, a bit quieter. "We played the Paramount Theatre, which is this huge, palatial, golden room. My mam and dad came over for it. It was the most perfect gig – the place was dead quiet. But then you wake up in a tour bus in the lashing rain in Portland. You're thinking, 'Did that even happen?' It's quite a jarring thing, to be thinking that you just played the best gig of your life, and now you have to go off and sound-check somewhere else. That back-and-forth can wear on you. You can feel like you're being dragged a million ways."
So how does he cope with those low moments?
"There's 12 of us on the road, and we're all very close," he smiles. "We're friends more than colleagues, so there's always someone to talk to, and there's always a strong support network there. We actually had a little venting session in a tipi backstage when we played Glastonbury. Stuff like that's so important – you should honestly schedule them when you're on tour, just to check in on everybody."
Calm and collected, despite his debut album arriving in a matter of weeks, it looks like Dermot's primed and ready for the tornado of success that's surely heading his way.
Advertisement
"It will be mad," he laughs. "We're touring right up to Christmas Eve, with the homecoming gigs at the 3Arena. We'll have a week before we head off to Australia and New Zealand, and then it's tour, tour, tour. I'll grab a break whenever I can, but right now, it's full steam ahead."
The Mystery Train is ready to roll again, with Dermot Kennedy in the driving seat. It promises to be one hell of a trip.