By: Shamim Malekmian
Yesterday seemed to bring a small ray of hope for the Debenhams workers in Ireland who were summarily told their employment was finished earlier this year. Last night, however, that ray was extinguished by a statement from the joint liquidator, KPMG.
Debenhams workers in Waterford have criticised the manner in which they were dealt by the company's joint liquidator, KPMG.
KPMG sent a representative to talk with the workers inside the Waterford premises (pictured), where Debenhams were formerly based yesterday. The workers understood that this was the beginning of a process of negotiation. However, it seems that KPMG issued a statement to the contrary last night, which was published by RTÉ.
A letter was also delivered on behalf of KPMG to four former workers and a UNITE member inside the Waterford store, at just before 10 pm last night. In it, KPMG denied having made any promise of returning to the occupants with a response from company officials.
This morning, additional former Debenhams employees camped outside the building where some of their former colleagues are staying. They told Hot Press that the company letter had no official signature and no letterhead.
"It's like I would go to my computer and write something and print it out," Denis O'Brien, who joined Debenhams two years ago said.
The workers have said that they were surprised that KPMG released a statement to the media before sending any follow-up missive to the workers themselves.
Advertisement
The publication by RTÉ of the KPMG statement was the first time the workers were made aware of it.
"We found it very odd to be delivered a letter at near 10pm at night – with no headed paper and with no signature at the bottom. It looked unofficial or like some sort of a prank," Mags Sinnott, one of the Debenhams occupiers said.
"It only became clear, when we read the statement KPMG had released to the media – ahead of delivering the letter to us – that it was legitimate. One thing is for sure: we clearly have KPMG flustered by our actions."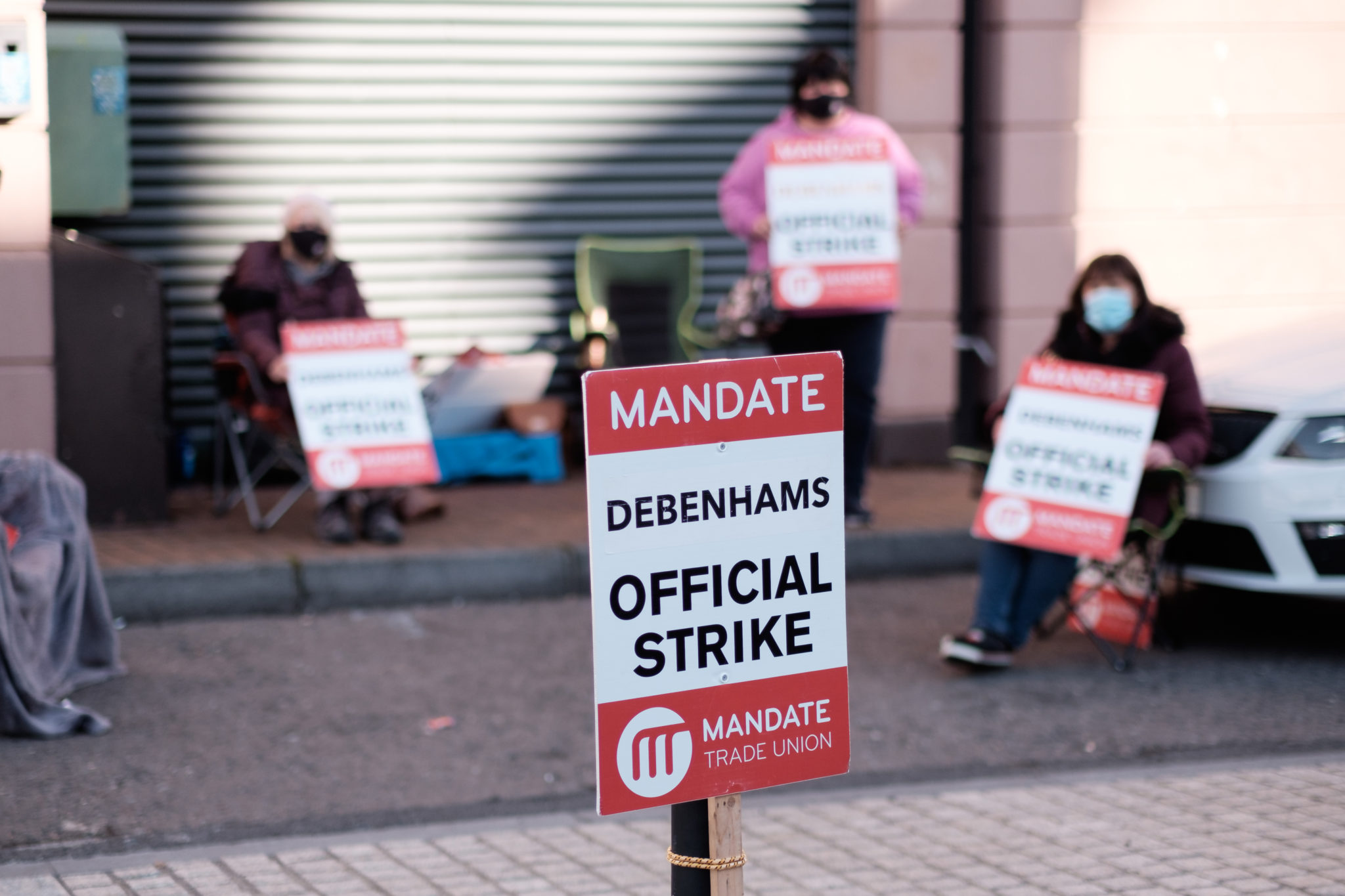 Michelle Gavin, former shop steward at the Debenhams store in Waterford insisted that RTÉ is the only TV station that had not covered their act of civil disobedience, yet it was quick to publish KPMG's statement.
"It really shows that KPMG have access to state media in a way that we don't. Or maybe it's that RTÉ don't care about covering workers issues," Gavin said.
Meanwhile, KPMG attempted to move stock from Debenhams's Tallaght store, but their hired truck was stopped by former workers and by supporters of their campaign.
Advertisement
Speaking to Hot Press, this morning, Denis O'Brien, who is camping outside the store, urged the Government to step in and implement the recommendations of the Duffy-Cahill report to at least thwart future unfair worker dismissals.
The report is an expert review of legal protections for workers, with recommendations to defend workers against corporate deception.
The new coalition Government made a commitment to implementing these recommendations in the Programme for Government.
O'Brien said that he was disappointed that Debenhams had unfairly dismissed the workers during the coronavirus pandemic.
"Especially during a pandemic, to know that I don't have a job to go back to after this makes it very hard. I don't know how the economy is going to be," he said.
People Before Profit TD Richard Boyd-Barrett had previously told Hot Press that Irish company law is unfair and sacrifices workers to promote a corporate agenda.
He said, however, that he had little faith in the current Government to amend the legislation.
Left-wing TDs including Boyd-Barrett's fellow party member Mick Barry and Right to Change politician Joan Collins have asked the government to put pressure on Debenhams to compensate their workers.
Advertisement
Back in April, when the coronavirus pandemic prompted a national lockdown here, Debenhams fired nearly 2,000 of its Irish employees without pay.
The dismissal took the form of what workers have described as a "generic" email that was "cold and callous."
The company had said that it was closing all its eleven stores in the Republic, with no intention to reopen once the pandemic ebbs.
Employees of Debenhams were made redundant immediately before the start of a bank holiday weekend, and a few days after the company's CEO had reassured them that Irish jobs are safe.
The British company is continuously trying to move stock from its former Irish stores, but they are facing resistance from former employees.
Bank of Ireland, one of Debenhams' major financial supporters in the country had previously told Hot Press that they were disappointed with the British firm's treatment of the workers, but added that they only held a small number of shares in the company.