English author David Nicholls' latest work, Sweet Sorrow, is an emotional coming-of-age novel exploring teenage romance, toxic masculine friendships and the power of Shakespeare.
Titles rarely come as apt as Sweet Sorrow, the fifth novel from English writer David Nicholls. Set predominately in the '90s, it centres around the character of Charlie Lewis, a 16-year-old inbetweener with a troubled home life and little confidence ("My distinctive feature was lack of distinction," he says of himself in one of many witty lines).
After most likely flunking his final year exams, he is prepared for an agonisingly long summer taking care of his depressed and divorced father, working part-time at a petrol station and binge-drinking with his laddish mates. However, a chance encounter with fellow teenager and aspiring actress Fran Fisher leads him to take part in something he would never normally participate in for fear of ridicule – an amateur theatre production of Romeo & Juliet (a line from which gives the novel its title). While she is Juliet and he is Benvolio, the two develop quite a bond over the summer.
Nicholls describes the novel as a "memory book" with an older Charlie reminiscing over this pivotal time in his youth.
"My first novel, Starter For Ten, was a coming-of-age book that was very much about being in the moment. I didn't want to rewrite that," says the novelist. "I wanted to write about that experience of looking back with a certain amount of regret, sadness and fond embarrassment."
In this era of nostalgia, what's especially refreshing about Sweet Sorrow is that it doesn't gaze at the past through rose-tinted glasses. It explores deftly the awkwardness of being a teenager, while also – through Charlie's father – the stigma with which previous generations regarded mental health issues: "A bit blue, not himself, down in the dumps... it was remarkable, really, our ability to devise coy phrases and euphemisms, like a parlour game in which you're not allowed to use a particular word," Charlie states in the novel.
Advertisement
"It's a terrible summer in a way," says Nicholls. "Falling in love is wonderful, but Charlie also has a certain amount of trauma."
Nostalgia, it seems, isn't all it's cracked up to be!
"I've just turned 50. There's always a certain amount of looking back that's involved in that. I try not to. It can become a bit of a trap. Nostalgia is a double-edged sword. At some point, I was reading the book and thinking it would be nice to be this age again. Other times, I forced myself to remember what it was really like and how difficult it is."
While the book is not autobiographical – "I don't have a summer like Charlie's to look back at," jokes Nicholls – the novelist does say Sweet Sorrow is his most personal yet. "I feel a certain amount of regret about childhood. I imagine everyone does to a degree. We're young and foolish. We make mistakes. I wasn't particularly like Charlie, but if there is any overlap, it's in a certain self-consciousness and lack of confidence. "With Charlie it's education. He doesn't feel he's smart enough," David adds. "I wasn't like that at school. I was very driven and ambitious academically. But the awkwardness, the inability to express himself – that's something I identify with."
Another element which feels personal to Nicholls is the depiction in Sweet Sorrow of toxic male friendships. Charlie's mates struggle to express their true feelings, constantly hurling insults at each other. These include calling the protagonist by the nickname 'Council' because he lives in a council estate, a type of behaviour Charlie dubs early on as "sentimental abuse".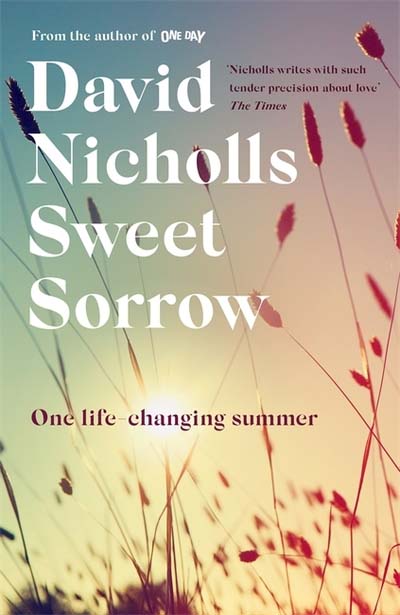 What does he mean by that?
Advertisement
"It was the refusal to say anything nice. The insults were constant. There's a terrible word for it which even now makes me shudder – 'banter' – this idea of a bond where you can be fondly abusive to people. I really hate it. But no one ever said: 'This is crazy, let's stop'. That's just how it was. Culturally that's changed a bit, but maybe not entirely."
Sweet Sorrow also captures that time in artistic young men's lives when they realise it's fine to extend their interests beyond laddish things. While for Charlie this occurs through meeting Fran and her theatre troupe, for Nicholls it was when he attended university.
"There were maybe three or four boys in my year who were prepared to be in plays or who were very bookish," remembers Nicholls. "It was quite a tough school. It was something immediately leapt on, if you expressed any kind of enthusiasm. It was considered posh and snobby.
"My first book was about going to university and that was a huge change. It became okay to be proud of your work or to be interested in your subject. That was a great relief. I'd never really experienced that in school. You had to hide your curiosity. It was almost a kind of furtive business to love books, films or being in plays."
Set in the UK in the '90s, music is a big part of Sweet Sorrow. Not only are there passing references to Britpop bands and the Trainspotting soundtrack, in the acknowledgements section Pulp's spoken word track 'David's Last Summer' is given a shout out.
"It's a beautiful piece of poetry and a brilliant evocation of a time of life and a place," says Nicholls. "I wanted to capture and convey that sense of the leaves turning on the trees and the birds leaving and summer being over – a kind of sweet sorrow that's contained in that song. "Pulp have always been very good about adolescence, that particular awkward, sticky, tricky time in our lives. There is a passing reference to Blur and Oasis. But it's always been Pulp that were important to me from that era."
Having adapted his novels Starter For Ten and One Day into movies, next up is his 2014 book Us – which is getting a four-part BBC series starring Tom Hollander (Bohemian Rhapsody). It centres on a man whose wife says she is considering leaving him. Having already planned a family grand tour of Europe, the husband works both to make his spouse fall in love with him again and to grow closer to his son.
Advertisement
Will Sweet Sorrow also get a starry onscreen adaptation? "I'm not sure," answers Nicholls. "It has a tricky structure. Flashbacks are difficult because you lose some emotional engagement with the main story if you are constantly leaping around.
"At the same time, it has those cinematic influences. I thought a lot about Gregory's Girl while writing it. But I haven't really grappled with that yet. I've avoided all those conversations because I love it as a book and want it to have life as a book."
• Sweet Sorrow is out now, published by Hodder & Stoughton