As part of the Now We're Talking Mental Health campaign, in partnership with Lyons Tea and Pieta House, we asked students at Athlone IT to produce a set of illustrations on the theme - out of which we'd select a winner.
Working with AIT Design students on Hot Press illustration projects over many years has always been an enriching experience for me. Particularly so this year, where an excellent group of 3rd year design students grappled with the topic of breaking down the stigma associated with mental health issues, with the Now We're Talking project acting as a reference point.
The illustration competition in partnership with Lyons Tea and Pieta House posed real challenges for the students. However it became obvious from early conversations and sketches that almost everybody had real life experiences to draw from. This underlines the fact we are all impacted by issues relating to mental health, whether through personal experiences or through family and friends.
The work chosen by Hot Press reflects the broad approach taken by the students both technically and conceptually to the subject.
The work by Pamela Kowalska is powerful, compelling and came out of the blue... or the black in this case. It is a classic case of how effective the use of a simple line can be. I can easily imagine it used as book cover or poster.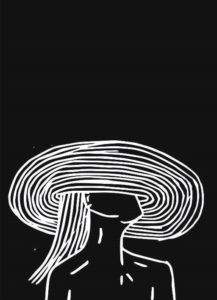 Advertisement
Nick Farrell was struggling to find a voice in the form of a line to communicate the subject matter. I have to say it was a genuine privilege to witness him discover what an extraordinary drawing style he has within him. I have no doubt that Nick has a huge future ahead of him: he just needs to harness this innate talent. Exposure to the art of Egon Schiele and George Grosz helped, particularly having books, not just thumbnail Google images of the art in front of him.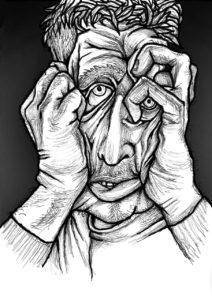 Carl Eskilson has created a poetic vision of society as birds on a wire. This concept came about in conversation with Carl and it was wonderful to witness the penny drop. The idea of the isolated bird set apart from the others on the same wire is a strong metaphor with echoes of song lyrics about it.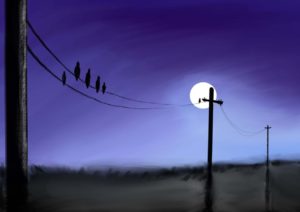 Finally, the winner! Gosia Kosel is a rare thing. She's got talent to burn, a huge work ethic and a personality that makes her a joy to work with. When I saw Gosia's sketched idea I knew it was wonderful - but I said to her that very often the best ideas fail to be delivered in an effective way. My worries were unfounded. Gosia created the candle man in clay, photographed it multiple times in the studio and then worked on the selected piece in Photoshop. It is subtle in execution, brutal in impact and the "I'm Fine" caption is just perfect.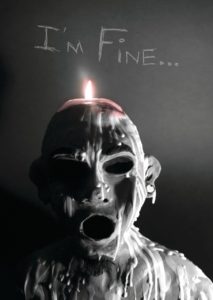 Gosia has a very exciting future ahead of her. I wish her the very best and congratulations to all who took part. It was a powerful few days in Athlone.
Advertisement