Ed Power doesn't want to say he told you so but, well, he told you so!
As a woman in the entertainment industry, Sigrid Solbakk Raabe knows what it's like to be made feel small and powerless.
She also knows a killer pop song can be the best revenge.
"You shut me down, you like the control/ You speak to me like I'm a child," she sings on her 2017 hit 'Don't Kill My Vibe'. The verse builds towards a quietly raging chorus. "Don't kill my vibe… don't break my stride". Revisiting the song as rock stumbles towards its long overdue #MeToo reckoning, the prescience is both inspiring and chilling.
The sentiments expressed in 'Don't Kill My Vibe' are at one level universal. Who among us hasn't experienced the urge to flip two fingers to a detractor trying to break our spirits? But the song also flows from a specific experience – one that speaks to the entrenched misogyny of the music business and to Sigrid's struggle to have her voice heard.
The flashpoint occurred some years earlier, when Sigrid's record label paired the then teenager with two experienced male producers. They had some ideas about the kind of music that would work best for her. As it happened she had some ideas too. What occurred next only the three people in the room can say for sure. In essence the producers told Sigrid not to worry her pretty little head. Her job was to show up and sing the songs they had selected for her.
Advertisement
"I was PISSED," Sigrid (22) tells Hot Press, when we meet over lunch to discuss her debut LP, Sucker Punch. "I was put off that my opinion wasn't treated as well. The next day I called my mom about it and her response was 'oh fuck'. I'm happy I wrote that song."
Everyone's Got Opinions
The release of 'Don't Kill My Vibe' marked Sigrid out as a different stripe of pop star. In the video she went without make-up. Her shoulder length hair was unstyled, and she was filmed in her everyday uniform of t-shirt and jeans. The lack of affect was striking. It was anti-glamour as glamour.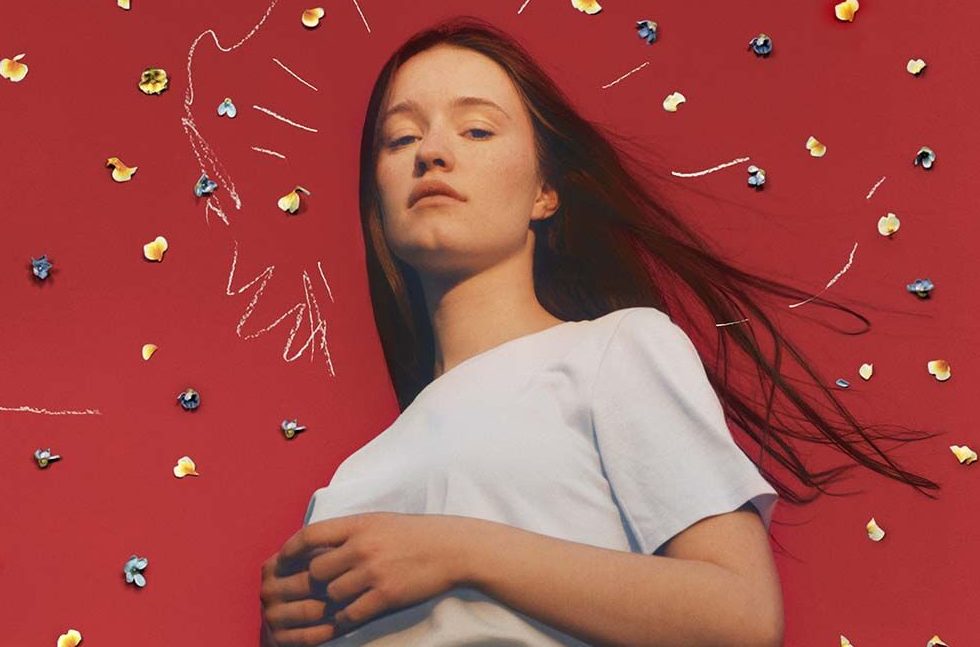 Today, she sports the same sensible denim and chunky running shoes, topped off with a t-shirt emblazoned with the logo of Other Voices, the County Kerry music festival at which she performed in 2017. The look screams "girl next door". And it is welcome evidence we may finally have arrived at a point where women in pop can dress down – or at least dress plainly – just as Ed Sheeran and his blokey cohorts have been doing for years.
You might even say that 'Don't Kill My Vibe' was uncanny in its prescience. It was released in February 2017. Six months later, Harvey Weinstein was outed as a thug and serial abuser of women and #MeToo took on a different momentum.
And now here we are in 2019, surveying what may well be the smoking wreckage of Ryan Adams's career, following accusations of inappropriate interactions with an under-age musician and claims he was controlling and manipulative towards female artists (including ex-wife Mandy Moore).
Advertisement
There is clearly an order of difference between how Sigrid was treated by two jaded music producers and what Weinstein's victims endured. But both speak to how women are still dismissed and objectified by powerful men.
"It's funny when people were surprised [by #MeToo]," says Sigrid, pausing to pop a grape into her mouth (we'd love to tell you she's chowing down on a deep-fried snack box – but alas, no, her diet is as sensible as her dress sense). "I mean, really? 'You don't think these things have been going on for a very long time?' So when [#MeToo broke] I was a mix of happy, shocked and disgusted – but also slightly empowered by all of the stories."
It is telling that while film and television have seen an onslaught of #MeToo revelations, for the most part a silence has hung over music. Lily Allen spoke of her treatment at the hand of a sexually abusive record company executive; she also spoke of using female prostitutes when she was on the road and in need of a bit of sexual companionship. While she sails on, Ryan Adams seems in danger of losing everything. Either way, the flood gates have in no way opened.
"There have been a few," says Sigrid. "But it should have happened a long time ago."
She points out that she is surrounded by her "amazing team". As a result, she has never suffered a big #MeToo moment. 'Don't Kill My Vibe' was co-written by 39 year-old Martin Sjølie, who encouraged her to set her frustrations down. But that sense of being belittled has stayed with her. She recalls opening her mouth and words coming out – and apparently nobody present hearing what she was saying.
"I was in a studio and there were comments and I was feeling patronised," she recalls. "I felt my opinions weren't being respected. I mean, why even invite me to the session? I didn't plan for 'Don't Kill My Vibe' to come out before this whole movement. It was weird. But I'm surrounded by strong females. My mom is strong, so is my sister. We have a family tradition of discussing everything."
That isn't to say she can't handle conflict. She's happy to push back – and for people to push back against her. What she won't accept is being hand-waved aside.
Advertisement
"I need people around me to have opinions. It would be weird walking through life to be surrounded by people who had no opinion whatsoever. I am very opinionated. I know what I like. Or at least I know what I don't like. But having people tell you what they like or don't like is important too. You should be open to other points of view."
Playing The King
She may be steely – the UK media has predictably made her "Viking spirit" a thing – but Sigrid isn't afraid of letting her emotions show either. That would have been clear to anyone who caught her performance at Electric Picnic last year. Moved by the warmth of the audience during her Saturday afternoon slot at a heaving Electric Arena, Sigrid burst into joyful tears.
The singer revisits the moment on 'Sight Of You', a stand-out from Sucker Punch. The song chronicles the travails of touring – and how it can all be made worthwhile when you are standing in front of an adoring room. "Sometimes it's like nothin' is going my way/ Even though I know I'm getting up on the stage," she sings. "But now that I'm here, I got reason to believe/ Just the sight of you is getting the best out of me."
"I don't think I've cried that much at a gig before," she says of Electric Picnic. "I was taken aback. I felt such a sense of being home. That's not something I feel a lot when I'm travelling. People were cheering and it meant everything."
The truth is that life on the road can be a drag.
"If I'm having a cold, it's tough," she says. "If my throat is starting to feel a bit eeuugh… The last time we did an Ireland and UK tour, I was a bit under the weather. It was great – but a bit stressful. You have to have all these rules: go to bed early, eat the right thing, drink a lot of water. No coffee. It's so fucking boring. But then you're ready to go and sing and it's amazing."
Advertisement
An amateur psychologist might posit that the Irish audience reminded her of home. As a native of a small Northern European country with terrible weather, Sigrid has always felt comfortable here. She made that trek to Dingle for Other Voices in 2017 and went the extra yard by playing two gigs the same day at Electric Picnic (beginning with a secret show at the intimate Other Voices stage).
One thing Norwegians and Irish people have in common, arguably, is a baked-in reticence. Neither nationality tends to chase the spotlight or assume that the world is waiting to hear what they have to say. Sigrid herself was terribly shy growing up in Ålesund, a town of 10,000 in the country's north west. She recalls breaking down crying at a school play and of always dreading speaking in public.
"It was in kindergarten and I was doing a show for 200 kids. My mum had to take me down because I was crying so hard. I was the youngest child and very shy."
That changed when she began to take theatre classes. "I could pretend to be someone else. The thing that really got me into it [stage-craft] was playing the king in A Thousand And One Arabian Nights."
TIME TO DROP OUT
Advertisement
Ever since 'Don't Kill My Vibe' and the even more successful follow-up, 'Strangers', there have been mutterings that Sigrid's dressed down style is an affect – as contrived as any pop star image. But face-to-face it's clear this isn't the case. What you see is what you get. As she learned during her teenage forays into acting, it is important to be comfortable in your skin.
"If I'm up on stage," she says, "I don't want to be anyone but me. I like myself – it's so important to spend time getting to know yourself and be comfortable in your own skin."
She isn't a hardcore about this, she says. She enjoys dressing up as much as the next Scandi pop sensation. "I love to do that. But when I am singing with my band, and I want to feel in control, it's very comfortable to dress as I do in everyday life."
Does she regard herself as a role-model? She shrugs, as if to say… a little bit.
"If the way I present myself helps people be chill [about how they look], that's fantastic. Why I find most fascinating about myself is my brain. The brain is the most fascinating organ we have – all of us."
Sigrid is the youngest of three and grew up in a family of over-achievers. Her father is an economist and lecturer, whilst her mother runs an architectural firm. She has a brother at Cambridge studying sociology.
As a curious child in a small town, music was always her beacon. She adored Adele and Joni Mitchell (another influence was Lost In Translation, still her favourite movie). Aged 17, she and her older sister, Johanne, started a band – Sala Says Mhyp. It was named after their dead cat, Sala, which is obviously the best inspiration for a band name ever ("We were a proper cat family").
Advertisement
Sigrid signed to a local indie label, Petroleum, shortly afterwards. But juggling shows, and recording, with school was difficult. The music suffered as she focused on her exams. However, she was already becoming a pop star, with her Petroleum debut, 'Sun', charting in Norway.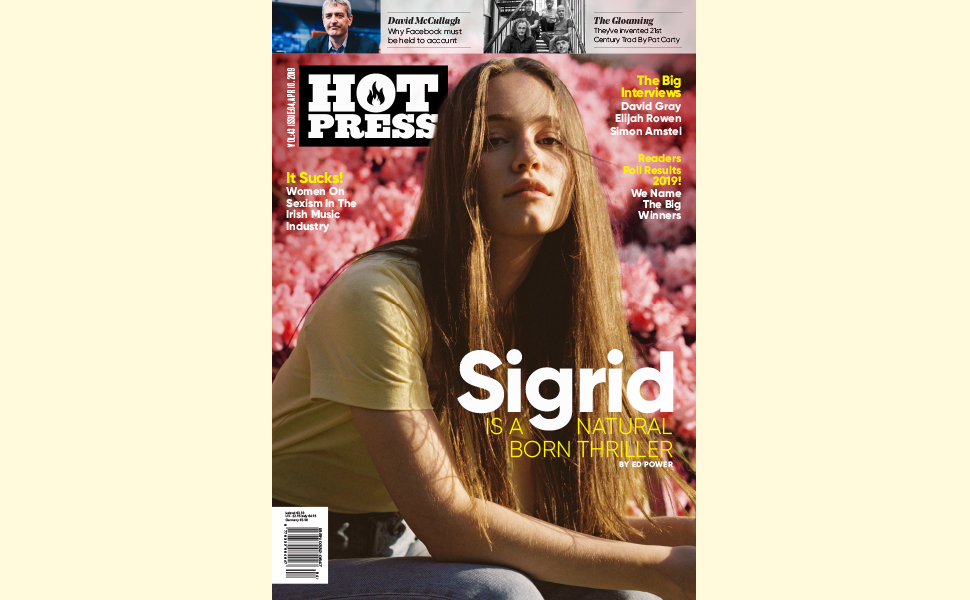 The song is quite different from her later material. It's folky and acoustic – not hugely removed from Swedish sisters First Aid Kit. In the video, she cycles around her hometown seeming slightly dazzled at being in her own pop promo. However, her protean star power is already discernible.
Sigrid dropped out of university, where she was studying politics, as the success of 'Sun' generated interest from international labels. Far from standing in the way, her parents encouraged her to follow her dreams. She can always go back to university. The chance to be a pop star is a once in a life-time opportunity.
"Did I ever want to be famous?" she considers. "Hmm…it's interesting. I've always been very ambitious. And if you have very big ambitions that thing [fame] can be part of it. That's how it is. And it's what I choose."
Hot Press reminds her that people are now dressing up as Sigrid for Halloween (straight hair, t-shirts, chunky runners). "It's very cool," she laughs. "And also a bit surreal. When I was growing up, I wanted to study law – or be a teacher history or politics. I wanted to be a journalist at one point."
A WEIRD JOB
Advertisement
One of the talking points that has emerged from the Ryan Adams debacle is that, while difficult men are presumed to be geniuses, women are held to a very different standard. Sigrid nods.
"If women are strong and opinionated they are perceived to be bitchy," she says. "That's not just true in music. It's true everywhere – in finance, in healthcare, in politics. It is so important to have opinions. You have a brain – use it."
She is straight and currently single – but good luck digging any deeper. Sigrid is protective of her private life and if Sucker Punch makes it obvious that she's lately been through the romantic ringer – it is brimming with break-up bangers – she declines to fill in the blanks.
Drawing a circle around her private life is one of the ways she copes with her overnight rise, she says. What she doesn't say out loud, but certainly seems to appreciate, is that mystery is one of the most potent currencies in pop. Better to withhold than put it all out there and ruin the magic.
"There are definitely things I don't talk about," she says. "But I write about personal stuff. I share a lot of myself. It's important I have something that's just me. I've made a choice to be myself. That's what has helped keep me normal in all the madness. What I do for a living – it's a pretty weird job."