Lifestyle & Sports
10 Nov 21
The Grain Event: Clonakilty's Head Distiller Paul Corbett Talks All Things Whiskey
Hot Press sat down with the head distiller of Clonakilty Distillery, Paul Corbett, to talk everything whiskey, the influence of the Atlantic Ocean on their spirits, and how he landed his coveted role.
High atop the cliffs overlooking the Atlantic Ocean of southwestern Ireland stands the Clonakilty distillery. Founded in 2016 by Michael Scully, the family-run business is located along the beautiful Cork coastline. The Scully clan have farmed the land for nine successive generations, forging a strong legacy over time. With the best resources that nature has to offer, prime land, pristine water and salt sea air, they naturally had the perfect ingredients for a maritime distillery.  
Head distiller Paul Corbett joined the Clonakilty team after two years at Teeling Distillery in Dublin. Keeping in step with the generational ties, Paul's grandfather also worked for Cork Distillers a few miles along the coast. 
"I studied microbiology at UCC a few years ago," says Paul over Zoom. "I was also home-brewing at my house all the time. Unfortunately, you aren't allowed to distill at home, so I just had to stick with beer. After college I was planning to do a master distiller course in Edinburgh, but I was offered a pharmaceuticals job. One day, it just hit me that I was making a product I couldn't care less about. I decided to pack it in and move to Scotland. I went to Heriot-Watt university there and did the master brewer, distiller course. 
"I came back to Ireland afterwards and got a job as a brewer. I could get a mortgage in Cork for less than the rent of my tiny box room in a house share in Dublin, so it just made sense for me to try and get back here to Cork," Corbett adds, referencing his path back down South. "I heard that Michael Scully was planning on building a distillery, so I sent him an email and it went from there. My grandfather worked for Cork distillers back in the '50s, '60s and '70s. It was always in my DNA to get back in the whiskey game. My favourite thing about being a distiller is that I can share the finished product at the end of the day — not like in pharmaceuticals! I'm so proud of my job."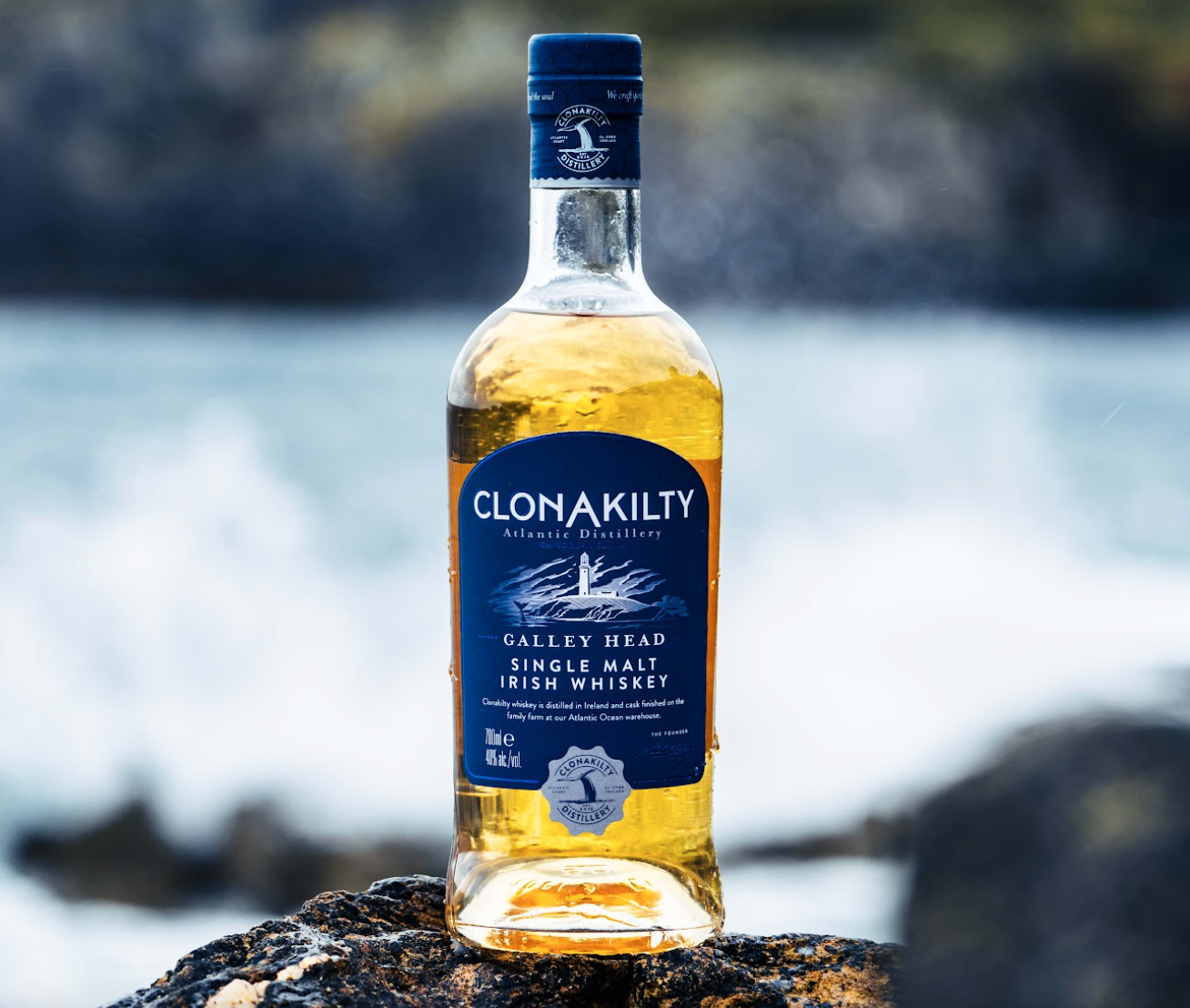 The ethos of family runs deep within the Clonakilty brand and its employees. 
"The Scullys are traditionally farmers from Clonakilty, so they have a large dairy herd and area of fields that go right onto the coast," the head distiller explains. "Michael began to think about how he could change the farm for the better. Clonakilty is a big craft food area in Cork, so he decided to marry the two together. He had a passion for whiskey and his wife Helen had a passion for gin – it just seemed natural. They knew they could grow the barley to make the whiskey and then use the whey base from his own cows to make the gin. It was the perfect opportunity to start a new home-grown business. 
"2018 is when we started blending whiskey but it wasn't our own. While we wait for Clonakilty stock to mature, we use whiskey that is carefully selected from cask throughout the entire island of Ireland. This is matured, finished and blended by us at our Atlantic warehouse. We started construction on the distillery in Clonakilty town, and passed our first whiskey on May 1, 2019. That's maturing up in our warehouse now and will legally be whiskey in May 2022. Exciting times are coming up for us." 
Clonakilty draw inspiration for their spirits from the special marine environment, the unspoilt Atlantic coastline of Cork. The whiskey matures/finishes in custom-built warehouses on the Galley Head peninsula overlooking the Irish Sea, absorbing that fine salty air. Clonakilty's 3 copper pot stills are clearly visible through the floor-to-ceiling glass walls to all who pass by the distillery, making them quite the landmark. The acclaimed company has also created new additions in the form of Minke Gin and Minke Vodka - named after the whale who visits the area. 
"Our warehouse is right on the cliff's edge, 200 metres from the ocean," Paul remarks, beaming. "This is where we mature all our new make spirits. When you go through the distillery door and look to your left, there is nothing but sea until you hit Canada. That strong Atlantic breeze coming through our warehouse on a winter's day makes it tough to even open the gate. The sea-salt laden air whistling through the warehouse is going to increase the angel share in the warehouse, where the alcohol starts evaporating from the casks. You lose a percentage of your liquid, which really concentrates the flavour. 
"With the Minke Gin, the signature botanical we use is Rock Samphire. We harvest that ourselves from the rock around Red Strand and Ardfield. It gives the gin that Atlantic salinity and spice. The ocean is really integral to everything we do. Our well is also located at the cliff's edge. We're bringing back mineral salinity from the water when we're cutting the whiskey." 
The flagship Clonakilty Distillery expression is the Single Batch Double Oak, but the brand is working on a landmark new idea.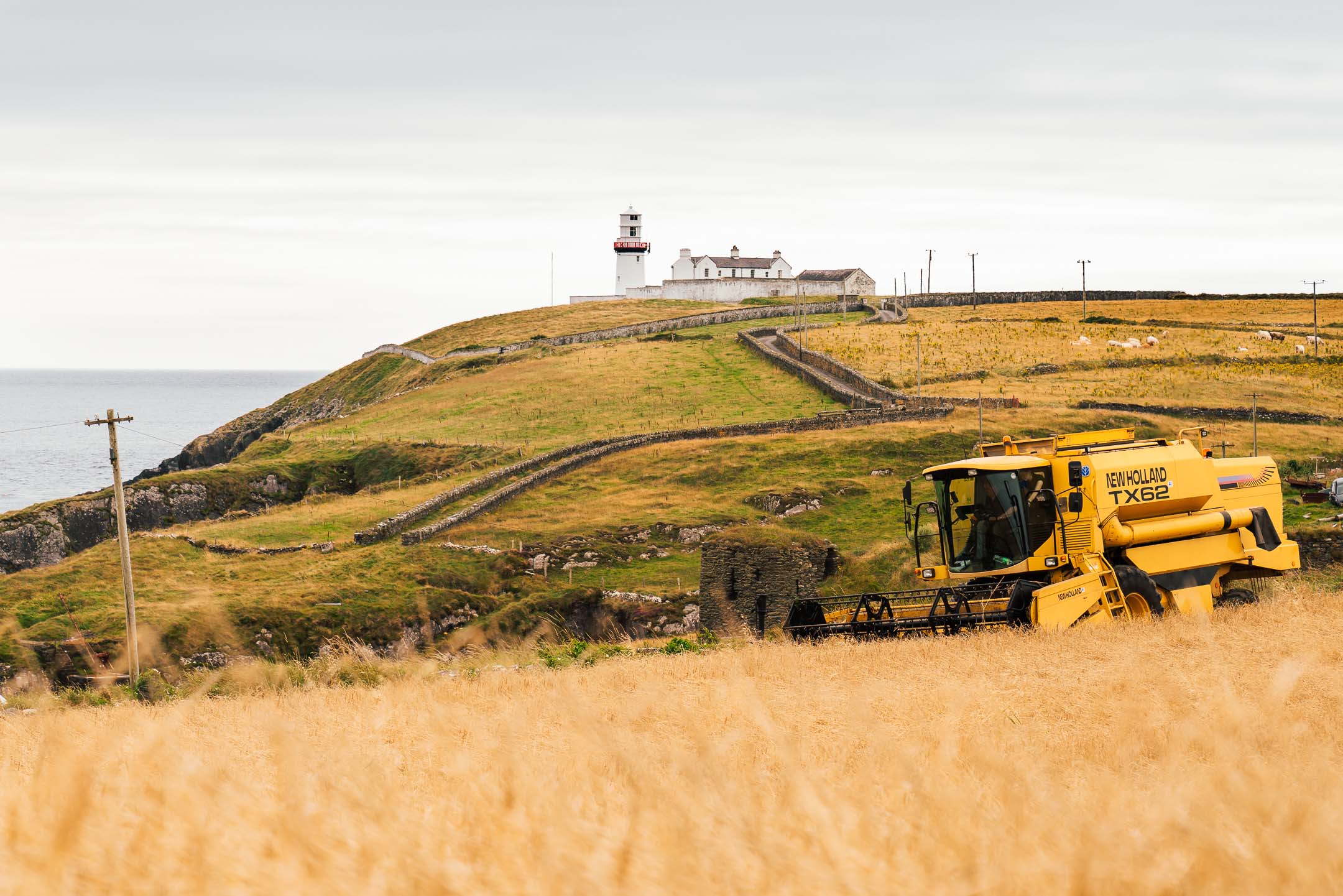 "Clonakilty are currently curating a heritage barley variety, which is a grain that hasn't been commercially grown since around the famine time," notes Paul. "It harbours a real earthiness compared to the more cereal-heavy flavour you get from modern grain. The Atlantic microclimate concentrates the flavour, giving a totally unique flavour to our whiskey. Growing this nearly-extinct barley on a completely unique set of fields around the coast of the Galley Head Lighthouse is completely one-of-a-kind. It'll produce a different taste from any other whiskey. Our goal and our legacy will be this revitalised barley from the past.
"It will likely become our signature whiskey, but limited edition," Paul adds. "Our real maritime seaside whiskey is going to be the actual legacy of the company. Another new project coming out soon is our Galley Head whiskey, which is going to be our first single malt whiskey. We sourced premium Irish malt whiskey and finished it in two cask types, a re-shaved, re-toasted wine cask and a freshly disgorged Bordeaux red wine casks. I think it will be really special."
 "If I told someone exactly how I make my own whiskey, they couldn't reproduce the exact same flavour," the scientist posits. "Even if I built the exact same distillery again 10 miles down the road, my whiskey wouldn't taste identical. We grow our own raw barley in Clonakilty and our fields go right down to the ocean by the Galley Head. That soil is getting sea spray from ocean water all the time. We take that raw barley and use it to make a pot still whiskey, the signature of Irish whiskey."  
Corbett notes the level of expertise that goes into their product.  
"The distillery itself has a lot of science, but the warehouse is mainly about craft," he says. "When it comes to blending, Clonakilty has the science inside in the town, and then your sensory palate in the warehouse. We decide whether this cask is spicy or sweet, then mix them together in ratios to make an actual whiskey. 
"In terms of day-to-day responsibilities, no two days are the same. Compared to other distilleries in the country, Clonakilty would be quite small. Because of that, everyone on the team has to wear a lot of different hats. In the morning, I'll make sure all the parameters are correct, and check whether we're going to get a barley or a malt delivery. I check if the grain is coming in.  
"After that, I'll head out to our warehouse by the ocean and see what needs to be blended. I have to select our casks and see what we have in stock. If they're tasting right, it's just about formulating our next batch of whiskey. Then I check cask deliveries. We get some Bordeaux red wine casks, take the heads off and make sure they're smelling fresh with no sulphur." 
Despite its young age, Clonakilty Distillery has already made its mark in the whiskey world, earning deserved accolades and recognition for its hard work. 
"The achievement I'm most proud of is when we won the best Irish new make spirit in the world in our first year of production," Corbett grins. "The initial 12 months in the distillery is always the hardest because your equipment is new and you're not exactly sure how it's going to work. You need to season the distillery and build up your heads and tails. They all influence the flavour. To win the best new make in our first year really validated the fact that we're making this great spirit. The quality of our casks almost guarantees that we'll produce some amazing whiskey in three to four years."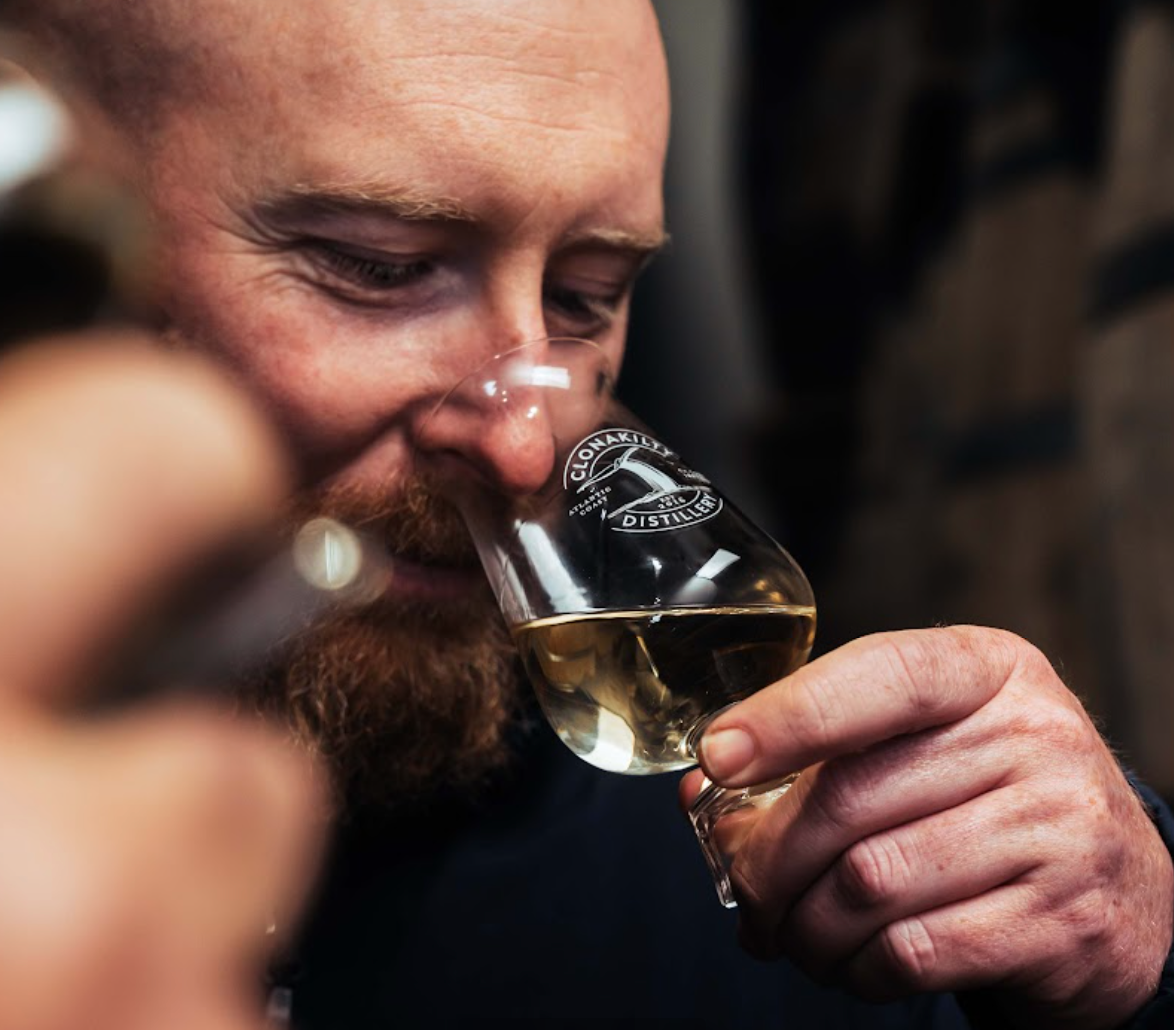 It's hard to ignore Paul's devotion to his craft. What, in his own words, makes the world of whiskey so special? 
"Whiskey isn't just having a drink. It's like a ritual when I start my selection - I could spend 10 or 15 minutes going through every bottle. I love everything; from the top of the cork, the sounds you get and then immediately the smells that come right after it. I could spend just as much time standing in front of the bottle as I would drinking it. It's not like sitting down and having a pint. It takes over your life completely when you really enter the whiskey world. Drinking whiskey is about quality instead of quantity. Working for Clonakilty means that I'm enveloped in a completely enthralling process."
Please drink responsibly
RELATED
Lifestyle & Sports
01 Aug 23