Lifestyle & Sports
11 Nov 19
Shelbourne FC: "Over the past 18 months, the club has been through a remarkable transformation"
Shelbourne was one of the great Dublin clubs. There were glory days, not least in the first decade of the new Millennium, when – under the stewardship of the legendary Ollie Byrne – they tasted League of Ireland glory, and considerable success in Europe. But since 2006 the club has been in decline, dropping to the second tier and stagnating. Now, with a new owner and a new manager, they have won promotion back to the Premier Division, just in time to celebrate the 125th anniversary of the founding of the club.
"They always cheat, they always lie/ Fuck Delaney, and the FAI…"
The outsiders, the punks of Irish football, certainly took their time.
Six years in the graveyard of Irish soccer – club chairman Joe Casey has called it 'the invisible First Division' – has been a form of torture for one of the founding member clubs of the League of Ireland.
Of course, many Shelbourne fans would say that the FAI and, indeed, fate itself has conspired against their club, whether it be via demotion, fines, the choice of referees that saw inexplicable decisions, penalties, sendings off, heartbreaking play-off defeats and more. The conspiracy theories abound. The pain goes way back and it runs deep.
Insiders recall the time that John Delaney and his entourage arrived in an Irishtown pub and the self-inflating man wanted to spread his largesse by buying all and sundry a drink. He was told, in no uncertain terms, where to go. To say that many Shels fans are enjoying the current trials and tribulations of the FAI would be an understatement.
Advertisement
Even as they were being presented with the SSE Airtricity First Division trophy just a few weeks ago, Shels supporters broke into that rousing "Fuck Delaney and the FAI" chant. It was a massive two fingers to a football regime that is imploding before our eyes. Chickens coming home to roost. Shels are entitled to a bit of schadenfreude.
So, on a September night of high emotion in Tolka Park, men, women and children alike could be seen crying as promotion to the Premier Division was finally sealed. It was cathartic. Like a curse had finally been broken.
Maybe that curse had, indeed, been Delaney and the FAI? For fans who had stuck with the club through the turbulence and challenges of the past twelve years, and high hopes and smashed dreams of the late Ollie Byrne era, it was confirmation that 'the Dockers team' were returning to where they belonged.
And where Shelbourne FC belonged was clear. As the first professional club in Dublin and a founding member of the League of Ireland, Shels are also one of Ireland's most successful outfits. The club has won 13 top tier league titles and seven FAI Cups. They boast the longest consecutive European run, covering all of 12 years on the trot that they qualified for UEFA competitions – including those magical nights in 2004, when they defeated Hajduk Split and brought Deportivo La Coruna to the wire in the Champions League. Those were the days, when club legend and supremo, the aforementioned Ollie Byrne, had moulded Shels into the team to beat and the club to emulate. A sparkling stadium, and wonderful players like Wes Hoolahan, Tony Sheridan, Stephen Geoghegan, the fabulous Baker brothers, and Mark Rutherford were at the heart of it. Glory days indeed.
Then came the post-2006 decline and fall, penury, demotion. Shels have been promoted and relegated in quick succession since, but the most recent stretch in the doldrums of the First Division has been the longest. The Dublin GAA footballer Diarmuid Connolly surprised many when, in the immediate aftermath of the Dubs winning their fifth consecutive All-Ireland, the maverick and legend let out an unexpected holler while an RTÉ Radio One report was in progress: "Shels are going up!"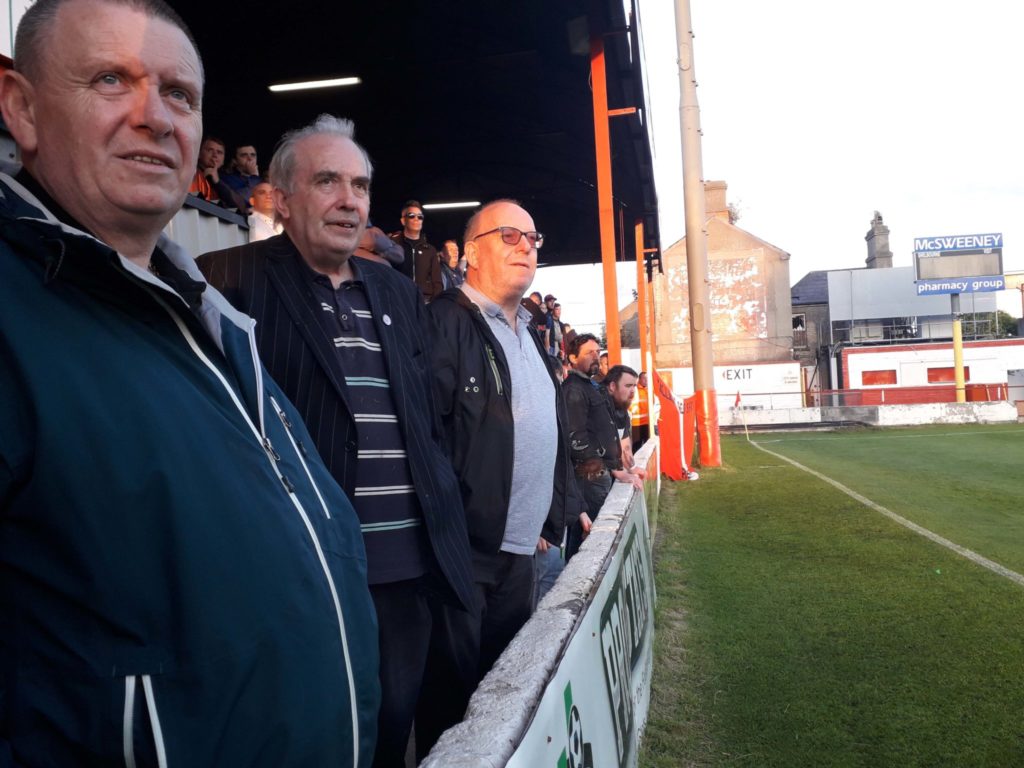 TURNING POINT
Advertisement
Of course, the resurgence of such a strong football brand as Shelbourne hasn't happened by accident. Over the past 18 months, the club has been through a remarkable transformation. There's a new owner, in corporate lawyer and former Shamrock Rovers director, Andrew Doyle. A new main sponsor, Umbro, joining the likes of DCU and EI Sports. A new 28 year old CEO, former UCD player David O'Connor. And a new rookie team manager, 31 year old former Bohemians and Leeds player, Ian Morris.
Doyle has placed his faith in blending youth and experience both on and off the pitch. This season, the club brought in 16 new players to the senior squad. Highly experienced Premier Division players like Oscar Brennan, Luke Byrne, Ryan Brennan, Ciaran Kilduff, and Conan Byrne were brought in. They joined stalwarts like captain Lorcan Fitzgerald, Karl Moore and Dean Delaney. Also introduced was game-changing fresh blood like Jaze Kabia, Denzil Fernandes and Aidan Friel.
At the start of the season, expectations were high, and the home crowds at Tolka Park began averaging 1,000 from day one, more than double the average for many clubs in the second tier. There was a buzz of anticipation.
Just two months into the season, things did not seem to be going well. Shels were sitting in sixth place following a 2-0 defeat to a strong Longford Town, with some fans calling for the manager Morris's head. Social media channels were rife with criticism, not just about recent results but about the style of play.
At home games it was obvious that the crowd were not happy. Lifelong fans like Jim Bolton expressed a view on a Facebook fans group that much of the football was unnecessarily cautious, unadventurous and unambitious. He took some flak, but he was speaking for many.
Bolton, who has seen his favourite band, the Rolling Stones, countless times from Hyde Park in 1969 to Croke Park in 2018 and who has almost all of the band's original albums on vinyl, would get almost apopletic beside me on the sideline as Shels would put 11 men in and around their own 18 yard box when defending corners or free kicks – with not one Shels player stationed up the pitch to relieve the pressure if the ball was cleared. It was a tactic that left many puzzled.
But Bolton was aware of the bigger picture too: that it would take time for the new players to blend with the existing ones. Like many other lifelong Shels fans who refused to desert the club during the bad times – people like Tosh, Murph and Fintan Cassidy – Bolton has endured the many false dawns of previous so-called Shels 'revivals', so his concern was understandable. But, as with his favourite band, his faith in his beloved club, remained undimmed.
Advertisement
The early season optimism was dented by not just inconsistent performances but by key defeats. There was a 2-3 home loss to a longtime Shels bogey team, Cabinteely FC; a 2-1 away defeat to Cobh Ramblers, that 2-0 away loss to Longford Town, and an away defeat to Cabinteely.
Of course, it wouldn't be the League of Ireland without farcical occurrences along the way – like the match against Galway United, for which Shels had to wear their white away kit at home because the referee and his officials turned up wearing the same red as Shels' home kit. Entertaining: Yes. Professional: no.
Yet, for all the new Shels team's inconsistency, they hung in there. Strangely, the turning point that transformed the team into potential champions was actually a defeat.
The FAI Cup. An away draw against Premier Division contenders Bohemians in Dalymount Park. Shels had played well and were two goals up with seven minutes to go, and holding their own, until a ridiculous sending off turned the tide. Bohs hammered in three goals. It was a cruel way for the game to end. Standing among the Shels fans, who gave them a standing ovation in defeat, there was a palpable sense of optimism and, indeed, bonding with a team who had given their all.
STRONG MESSAGE
"My wife says watching Shels is making me bipolar!" one wag quipped, on the away supporters' bus to the big showdown with second-placed Drogheda in United Park. It was, to all intents and purposes, a winner-take-all scenario and the atmosphere was crackling, with 2,596 people in attendance.
The two sets of fans traded songs and flares as the teams overcame their initial nerves. Shels settled better and were in control of the game when Drogheda's Sean Brennan was sent off for a second yellow card. On 65 minutes, Aiden Friel opened the scoring. On 77, Luke McNulty equalised. There was an ominous groan among Shelbourne fans. Could they be denied again, and by ten men? In the 80th minute, Oscar Brennan had us dancing. 2-1. And then a minute from the end, the deal was sealed when Lorcan Fitzgerald put the result beyond doubt. Cue rapturous celebrations.
Advertisement
It was a memorable night, one that will live long in Shelbourne folklore.
What must that moment have felt like for Kevin Smith, a Shels fan who made a 20,000km round trip from China to be present for the Drogheda showdown. Smith arrived back in Ireland on the Wednesday, went to the match in Drogheda on Friday and got on a return flight to China on Sunday morning. Legend.
That win finally sealed promotion and set the scene for the victorious First Division trophy presentation a week later at home in Tolka Park where they dispatched a troubled Limerick FC 7-0.
When the League of Ireland Premier Division re-convenes next February, Shels will be celebrating the 125th anniversary of the founding of the club in Irishtown in 1895. It promises to be some season.
"Promotion means there are massive opportunities for the club from a commercial point of view," says Shels CEO, David O'Connor. "Our fan base is going to grow. Already, home attendances have been up 45% on last year. Throughout the season we were averaging about 1,100 and the last match was over 1,600. So, we've already been at Premier Division level in terms of attendances.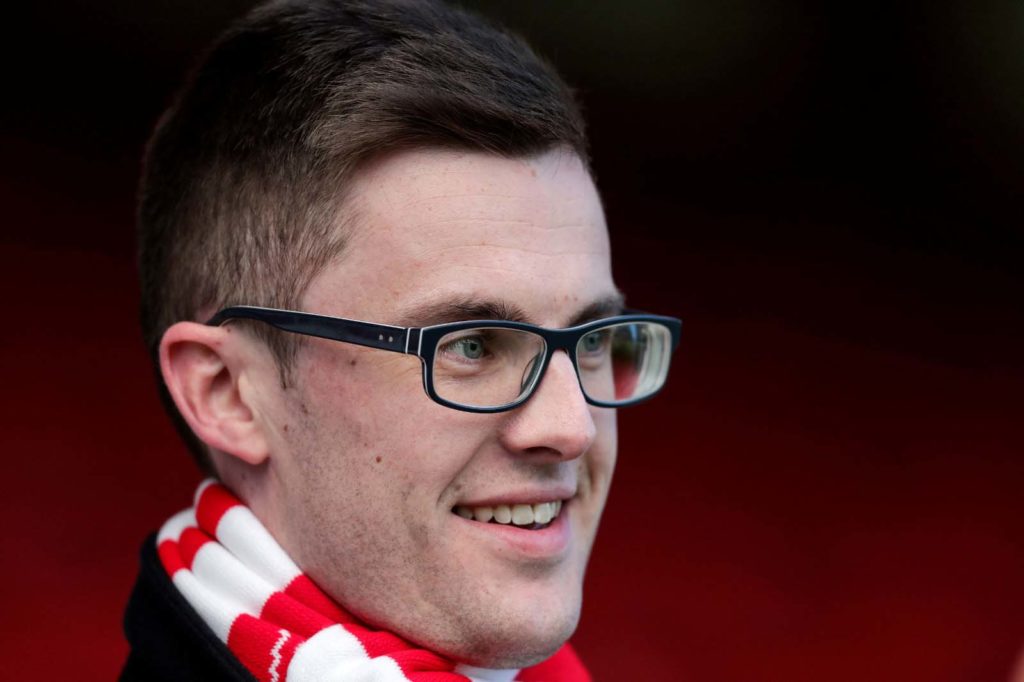 "There's a huge dormant Shelbourne fan base out there and, y'know, when we're competing with the likes of Bohs, Shamrock Rovers and St Pats next year. Our target is to have an average attendance of somewhere between 1,600 and 2,000 people, which is very achievable."
Advertisement
Shels have upped their game considerably on social media, with the objective of tapping into that dormant fan base and also attracting new, younger fans.
"Our analytics for our social media platforms have shown significant growth in the last 12 months," O'Connor says. "We're showing match highlights regularly, interviews with players, coaches and the backroom team. There's regular, high-quality content. And that's what younger fans, in particular, engage with."
The club's merchandise shop, run by Andy McGouran, has seen a boom in sales this season of 160%, helped in no small measure by the larger crowds. The club bar, run by John Reilly, has also seen growth of more than 40%. And there's a bigger and better online shop on the way.
The Shels revival has not been restricted to the senior team. The women's senior and underage teams have been competing for titles. So too have the boys' underage teams. This is all part of a grand vision, O'Connor reveals.
"One of the first things Andrew Doyle said to me was that he wants to try and create a one-club culture," he says. "We could see that Shels had the makings of a very successful men's senior team, a very successful women's senior team (which features several Ireland internationals – P.O'M) and two academies of boys and girls. But we soon found out that, while they all wore the same crest, they were operating as separate entities and separate clubs. A big part of what we are doing is trying to knit those four cohorts together.
"That means that everyone who puts on a Shelbourne jersey, whether it's a player or a coach or a parent of a player in the academies, should all feel they're part of the club, and they know what's going on in the club. And so they've all got representation on the board."
Shels took the 'ladies' out of the official name of the women's senior side. They're now playing at Tolka Park and they are part of the Umbro deal.
Advertisement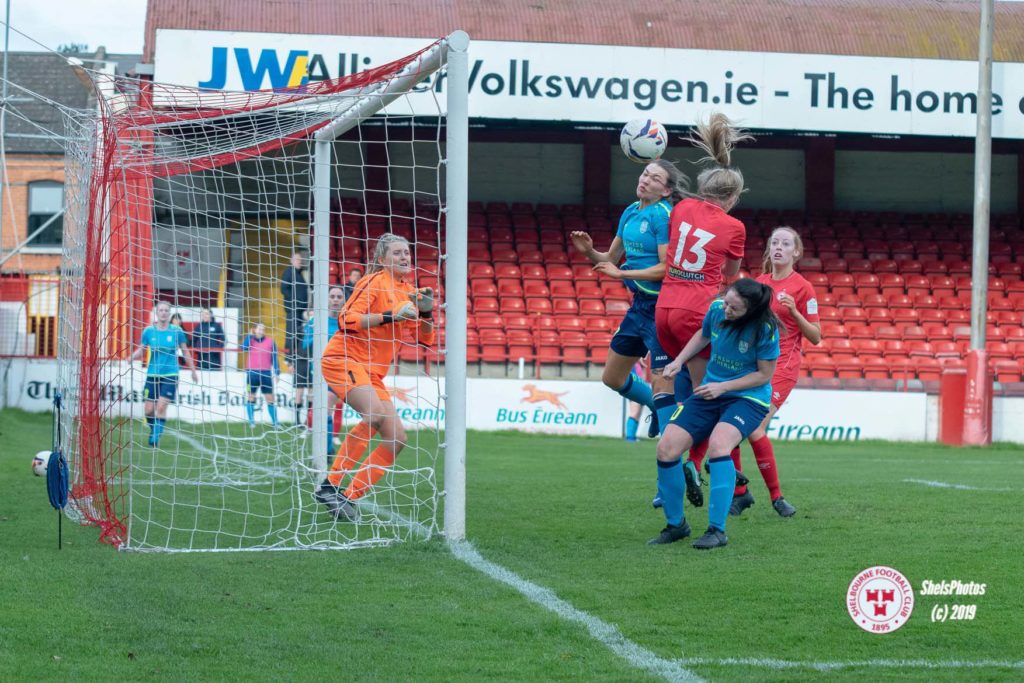 "That's the first time the whole club was part of one grand kit manufacturing deal," O'Connor says, "which is important not just aesthetically, but it also made sense financially. We got a very good deal by putting all of those parts together. When you go and watch Shelbourne now everyone is in the Umbro gear: the same red. It creates a very strong message."
Having an active family zone is also part of the big vision.
"We have made an effort to get our academy teams to come to the games with their parents, with their teammates, with their managers and they get to meet some of the senior players. We try to get some of the players that aren't in the senior squad on match day - they may be injured - to come down to the tea room at half time and the families get a few photographs with the players. And that's kind of continuously evolving."
GRAND VISION
Some people seemed to be puzzled as to how Shels attracted 16 new players, some of them very experienced, into a club still in the second tier this past season.
"We deliberately targeted certain aspects," says O'Connor.  "Players can see that Shelbourne is historically a massive football club with big attendances. There's a natural attraction there anyway for players. Secondly, when players can see there are changes happening in a club, and a lot of good news stories around the club, about the new ownership and new people being involved, plus good news stories in the media, then that all helps.
Advertisement
"Having a manager that we identified in the offseason, who we knew would be very proactive and close to the ground in terms of current players in the league, was a big positive because we knew he would go out and get very high quality players for less than their market value. Ian Morris has been an integral part of assembling the squad. And the needs and wants of players nowadays is a lot different to what it was even five or six years ago. Having a younger profile manager who knows how players tick has worked massively."
So if it's not the money, what attracts experienced players to a team in a lower division?
"All I can tell you that our players are on 32 week contracts. So they're not full time. So a big part, again, of what attracted some of the players was that we're part time and we train in the evening. So, we're able to attract very high quality players that have jobs – like Ciaran Kilduff, Conan Byrne, Ryan Brennan – because it fitted their routine. Bohemians are very similar. So we were kind of fighting Bohemians for a similar pool of players.
"Ian was given a competitive budget, a First Division budget. Absolutely, it was an increase on last year's, but it was not anywhere near the increase that some people assumed. I can't divulge specifics because, y'know, you want to have a competitive advantage over your rivals. But, I would say our budget was, for sure, in the top three in the First Division. But, from what I've heard, we were very closely matched by two other clubs."
With DCU as one of Shelbourne's main sponsors, there is also an educational attraction for players, in terms of scholarships.
"We have our first batch of applicants for DCU scholarships underway, with the awarding of the scholarships coming later in the semester. We've also set up a mentorship programme, and we have a group of 10 individuals on that. The mentorship programme is the Shelbourne Opportunity Network, which is a group of individuals who have made themselves available to act as career guidance coaches for some of the Shelbourne players.
"They're from various backgrounds and industries and sectors, such as business, law, sports science, and sports psychology. And again, players can use those people as a sounding board to bounce ideas off or to sit down and discuss career paths, and so on.
Advertisement
"So, again, when a player can see that Shelbourne FC is trying to do something extra for them, that helps encourage them in. And it's kind of a combination of all of those things that ultimately helped assemble the current squad."
While Shels have been working on their grand vision, the FAI has been in turmoil. Has that been an unwelcome background to the club's ambitions?
"You have to just get up, mind your own house and get on with your own business," says O'Connor. "There's enough to be getting on with. But, that said, when the headlines in the news about Irish football were as negative as they were for a period of time then, absolutely, that impacts on the League of Ireland clubs. That's probably something that might have gone unnoticed by people looking on from the outside, but it does of course affect the league, and the individual clubs. But, as a club, we would be very much open to the thought that there might be some positive changes for the league, coming down the line soon."
Are Shelbourne interested in the All-Ireland league idea?
"Absolutely. I'd like to hear more. The good thing is that it's started a discussion about the League of Ireland, which probably hasn't happened in a number of years. I met with Niall Quinn and Kieran Lucid, the two gentlemen who are fronting the two groups who are leading the idea of a change and the idea of an All-Ireland league. Two very smart guys. Two different ideas, despite a kind of similar structure of a league. We, as a club, would be very open to hearing more detail."
THROWBACK STADIUM
Integral to Shelbourne's future plans, under an arrangement with Dublin City Council, is for the club to ultimately ground-share with Bohemians in Dalymount Park. The exact timeline is still unclear. In the interim, Bohs would ground-share Tolka Park with Shels. The idea is not universally popular among fans. Meanwhile, because of moving up to the Premier Division next season, Shels will have to spend money bringing Tolka Park, a fine old stadium, that is in some parts dilapidated, up to scratch.
Advertisement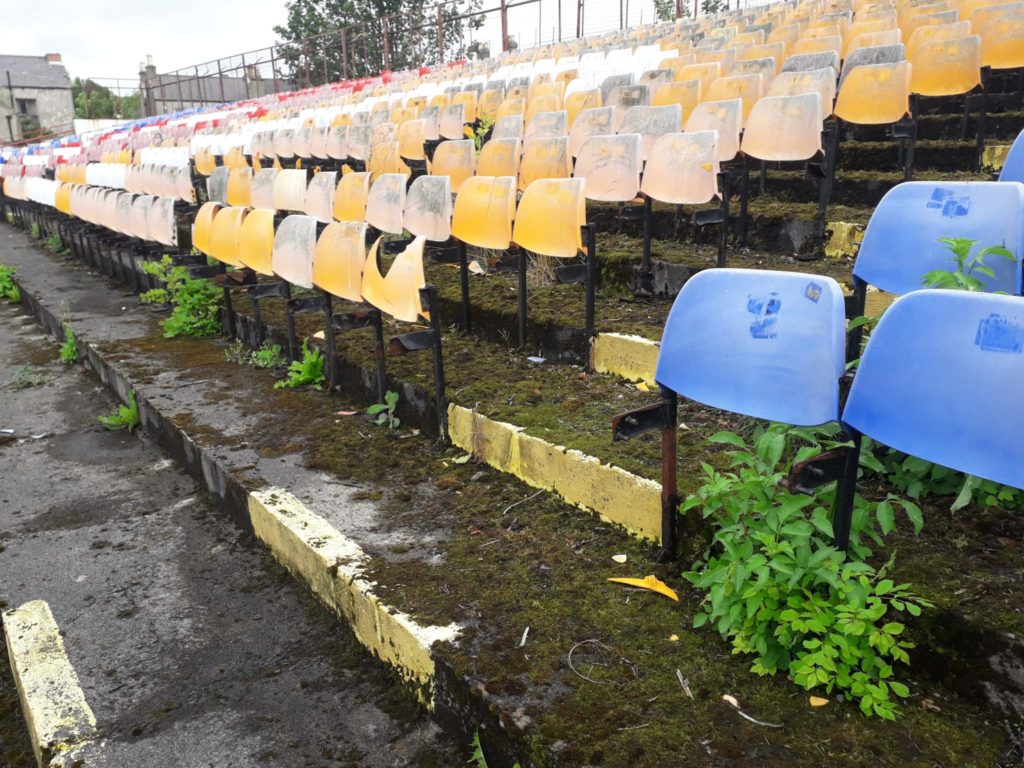 "It's kind of a Catch 22," admits O'Connor. "You obviously want to improve Tolka Park as much as possible, but if you're investing money, then that becomes dead money in three, four or five years' time, so it's a tricky balance. Tolka, in essence, is a beautifully old fashioned, throwback stadium and there's something really appealing about that, too. The other side, of course, is that you always want to strive to have really top class facilities."
One thing's for sure: after the drama of their successful SSE Airtricity First Division title-winning campaign, the six years of pain since their last period in the Premier Division is over. A more durable vision is being constructed to make their return to the top tier, in the 125th year of the club, one that will not just ensure survival but eventual success and a return to the European stage.
Delaney is gone. The rebel Reds are back where they belong.
Sounds like there might be a song in it…
• In 1977, the year Hot Press began, Paul O'Mahony became a founding member of Cork's first punk band, Berserk. His childhood football team, the legendary Cork Hibs – winners of one League of Ireland title and two FAI Cups – folded in 1976. 
RELATED
Lifestyle & Sports
16 Aug 22