The post has since been described as "a serious misstep".
Sam Fender has deleted a photo from his Instagram Story showing him at a Newcastle pub with his alleged "hero", Johnny Depp.
The encounter took place amid the actor's defamation trial against his ex-wife, Amber Heard.
As the verdict was read out on Wednesday, Depp was spotted in a Newcastle pub with Jeff Beck after joining him on stage as part of his ongoing tour.
The jury found that Heard had defamed Depp on all three counts and awarded him $10m in compensatory damages and $5m in punitive damages.
Heard was also awarded $2m in compensatory damages.
Advertisement
Fender posted the picture (below) to his Instagram Story with the caption: "Some serious heroes."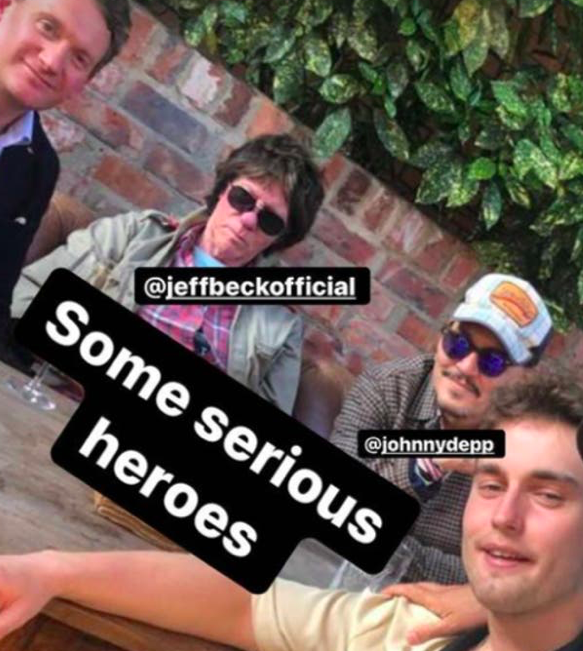 Backlash immediately flooded social media due to the controversy surrounding Depp at the moment.
One person wrote: "By posting this, Fender might as well be sticking two fingers up at every woman and/or abuse victim he's ever performed to."
With many people on Tiktok and Instagram using Fenders hit song 'Seventeen Going Under' to highlight the abuse they have indured in the past, people thought the post was essentially insensitive.
Leonie Cooper, of independent.co.uk, said it was "A serious misstep in an otherwise glittering career."
The Geordie singer previously the Brit Award for Best British Alternative/Rock Act.
Advertisement
Another fan took to Twitter and wrote: I love Sam Fender, but this post is not it."
The post has since been deleted and he has yet to speak on the issue.
Amber Heard took to Instagram, after the verdict has been reached, and she said: "I'm disappointed with what this verdict means for other women. It is a setback… I'm sad I lost this case. But I am sadder still that I seem to have lost a right I thought I had as an American – to speak freely and openly."
RELATED
Lifestyle & Sports
17 Aug 22
Lifestyle & Sports
16 Aug 22