Lifestyle & Sports
26 Jun 19
Fashion Feature: How the Rainbow Flag became an empowering fashion symbol
By: Roe McDermott
It's Pride season, and when it comes to style, that means embracing the rainbow colours that have become synonymous with Pride, and a universal symbol of hope for LGBTQ people around the world.
The first rainbow flew in San Francisco's United Nations Plaza for Gay Pride Day, on June 25, 1978. Designed by gay artist and activist Gilbert Baker, it originally had eight colours – two more than today's modern version. Baker had been commissioned to design a symbol for the LGBTQ community by his friend Harvey Milk, the first openly gay elected official in California.
Baker drew inspiration from the US national flag and rainbows, which display the colours of the light spectrum in roughly the same sequence as the flag. Baker assigned a meaning to each of the colours: hot pink for sex, red for life, orange for healing, yellow for sunlight, green for nature, turquoise for magic, blue for harmony and violet for spirit. The first flag was over sixty feet long, thirty feet wide, and Baker, then 27 years old, sewed it by hand.
After that iconic debut, Baker changed the design, removed pink and turquoise and settling with the current six-hue configuration, which was easier to mass produce. The rainbow flag became iconic, and is now an international symbol of love, support, solidarity and hope.
Baker died in 2017, aged 65. Before he died, he expressed his gratitude that the rainbow flag had been embraced by the LGBTQ community. "We needed something to express our joy, our beauty, our power. And the rainbow did that," he said. "We're an ancient, wonderful tribe of people. We picked something from nature. We picked something beautiful."
Whether during Pride season or not, donning rainbow colours can serve a dual purpose; infusing your outfit with some colour, joy and effervescence, and signalling your year-long support for the LGBTQ community, whose ongoing struggles for rights and acceptance don't fade away with the parade paraphernalia. Supporting LGBTQ charities, activists, designers, business and companies who have shown committed, ongoing support for LGBTQ communities is a way to put your money where your mouth is – but donning an outfit that shows your support in a fun and fashionable way is also a lovely way to wear your heart on your sleeve.
Advertisement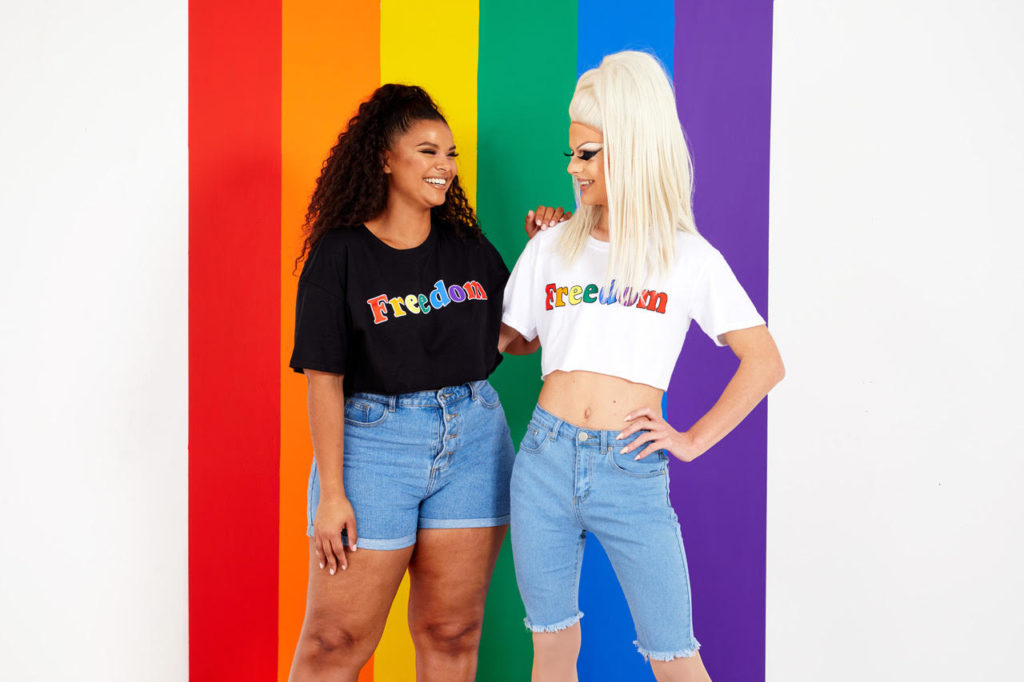 Buying rainbow flags from LGBTQ organisations is great, but also feel free to don rainbow earrings, headpieces and accessories so you can happily flaunt your LGBT pride from head to toe. Rainbow shows and handbags are also going to make for glorious accessories during summer and wedding season – no matter the gender of the happy couple. Rainbow stripe skirts and dresses will always make for a fun and flirty addition to your wardrobe, while rainbow striped bomber jackets, tinsel capes and shaggy cardigans will not only serve you beautifully at Pride but will also be on-trend come festival season.
That Ireland was the first country to democratically vote for marriage equality is a source of national pride, and donning rainbow colours is a very easy way to celebrate our ongoing – and ever-learning, ever-improving – support for the LGBTQ community. As Baker said when the White House donned the rainbow flag in 2015, after the Supreme Court made same-sex marriage legal in all 50 states, "I thought, 'I don't have to worry about making the rainbow flag a success anymore.' "