From its origins as a pop up in Dun Laoghaire market, Wing It has come a long way in a short space of time. Crowned Best Wings in Ireland at WingFest, they combine mouth-watering flavours with a great atmosphere. Aoife Bradshaw speaks to founder Sebastien Conway about their latest addition on South Great Georges Street, and the range of finger-licking flavours on the table.
Wings have taken off like wildfire within the capital, but with so many places to choose from it takes something special to stand out. That's where Wing It comes in. Born out of a wealth of research on the streets of New York and California – the home of the chicken wing, Wing It grew from a genuine passion about good food and good gatherings.
"We got the idea back in 2012," Sebastien explains. "We were travelling the states and seeing all of these wing restaurants which didn't really exist here. There was nowhere in Dublin that shareable style casual dining with a full cocktail bar offering a cool New York club vibe".
However, starting out during the recession proved a challenge. After spending a year honing their recipes and flavours, they decided to take it to the streets and let the people make up their own minds – and taste-buds.
"We hitched up a tent in the Dun Laoghaire market and sold out every-week, then hit the festivals circuit. It was during that summer the whole thing really developed, and we managed to build the first unit in The Square Tallaght. We were beside the busiest Domino's in the world, so it was a great place to test out whether we could compete with delivery. But we found people were more eager to come in and enjoy the atmosphere with a beer, rather than take them to-go. So that's what we decided the future of the wing shop would be".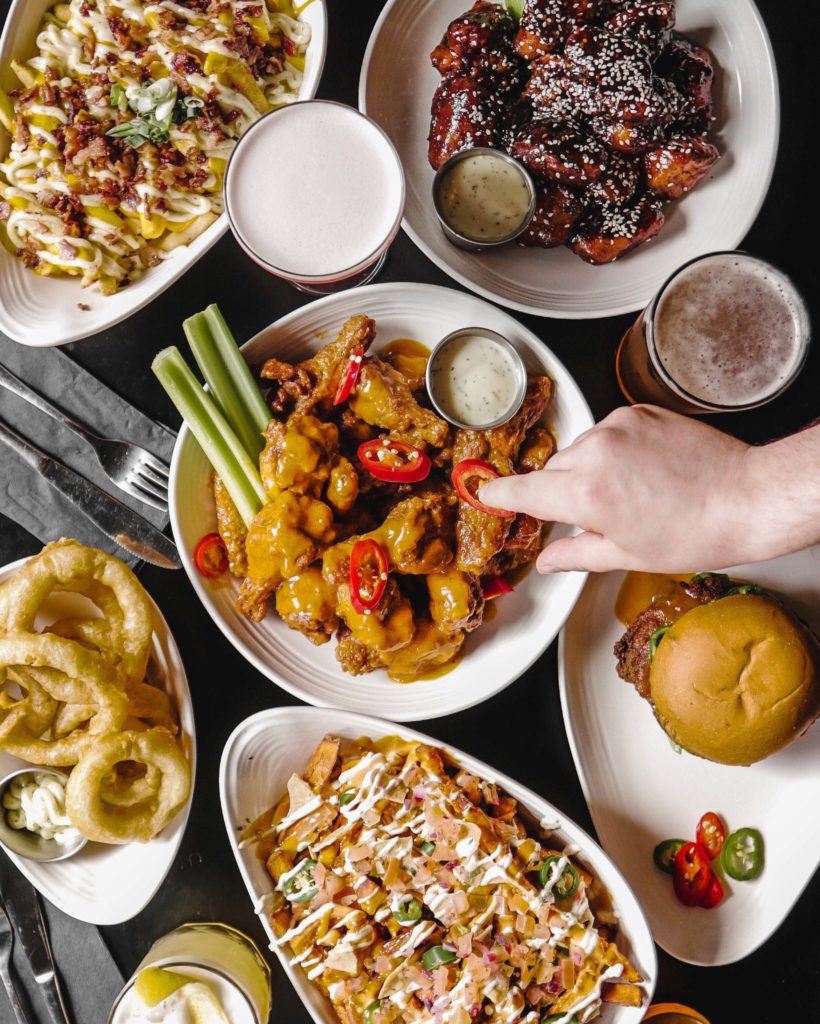 Advertisement
Taking their time over three years to find their next venue, they had a pop-up in the always fabulous Eatyard which proved immensely popular with diners before setting up a new outlet on South Great Georges Street. "We're in the middle of everything here so we cater for everyone, from office lunches to students and tourists. That's down to the location, but it's also down to the type of food it is. Wings are inclusive and not the most expensive, so everyone can enjoy it".
"We didn't want it to be just another one of these IKEA-style restaurants that are popping up, which are designed to be so uncomfortable you need to get straight out! So we got North Design to do all the interiors and Dublin street artists did the fantastic murals".
With a rolling-stones-esque 'saucy lips' mural and leather banquette tables, Wing It on South Great George's St eschews a coolly classic, yet laid-back atmosphere.
"We also curated playlists to play throughout the day to emit a certain vibe. It's about offering people a whole experience rather than just a place to eat".
Let's not forget about the main event. It comes as little surprise these were crowned the Best Wings in Ireland at Chicken wing festival "WingFest". After taking a year to craft a range of flavours and combinations Wing It's menu offers up a range of mouth-watering choices. "Before we decided on the menu we cooked the wings every which way - which is surprisingly a lot! We baked them, boiled them, fried them and grilled them. Then we settled on a twice-cooked method, where we steam and fry them giving a soft meat and crispy skin on the outside". They also teamed up with Teelings to create an Irish whiskey barbeque sauce.
"Wings and beer obviously go great together, so we developed our own craft beer too. It's a dry lager, so rather than being super-hoppy, it's a refreshing flavour to wash down the more spicy wings".
•Wing it | 63 South Great George's Street, Dublin 2 Phone: (01) 525 2929
Advertisement