Shame's Food for Worms tour era has begun with two fiery nights at the city centre venue, with Charlie Steen at his energetic best. Blistering guitar thrashing, mosh circles, and even a fan lighting a cigarette while crowd surfing; the Londoner's gave us two memorable sets.
As the crowd (presumably music college attendees, judging by the amount of vintage leather jackets and single earrings in sight) pile into the Button Factory for Shame's duo Dublin sets this week, the anticipation is palpable. The fans are gearing up for an evening of sweat, Charlie Steen's shirtless flailing - or dancing, as some call it - and dry quips.
The South London rockers last played these shores at All Together Now Festival in June 20222, delivering a visceral set that pleased followers who have celebrated the quintet since their acclaimed 2018 debut album Songs of Praise. 2021's sophomore outing Drunk Tank Pink anxiously detailed the strange gap between youth and adulthood.
Now navigating their twenties, the Dead Ocean label signees are back with third studio album, produced by the formidable Flood.
Food for Worms is yet another reinvention for the band who can't seem to stop evolving - having first burst onto the scene in 2016 with songs like, 'Gold Hole' and 'The Lick', Fontaines D.C. and The Murder Capital later toured with the energetic, raucous outfit, giving them the platform that opened new audiences to Irish guitar noise.
Kickstarting their European tour in Dublin, the five-piece were supported on night one by experimental noise-electro band YARD, while energy-fuelled Florida duo They Hate Change bring the heat on night two. The Jagjaguar signee's fusion of hip-hop with electronic beats is mesmerising, with Tampa pairing Vonne Parks and Andre Gainey clearly loving the crowd.
Advertisement
The lights dim as Shame get ready for an epic return. Walking on to the 2001: A Space Odyssey theme music (why not?) to add to the tension with a tongue-in-cheek reference, before long Charlie Steen launches into Food for Worms single 'Fingers of Steel'. He's on top form, encouraging the crowd to create chants as transitions between songs.
When he points out that guitarist Seán Coyle-Smith has a Dubliner for a mother, the crowd goes wild, chanting "Seán, Seán, Seán" back to the smiling outfit. You'd swear no one's ever heard of Londoners having Irish parents. Must be rare?
"You're complaining a lot (Complaining a lot)," Steen roars at the crowd, who chant back in response. "About the things that you got given / You know you're wasting away (You're wasting away). There's a sun outside but you don't see it."
Advertisement
'Alphabet' is up next, a track dissecting the dynamic between an entertainer and their audience. Enthusiastic shouts of "Monkey see and monkey do" from the crowd confront the absurdity and responsibility of people "waiting to feel good" from Shame's performances.
Drunk Tank Pink single 'Water in the Well' and Food for Worms banger 'Yankees' precede the irrepressible third album single 'Six Pack'. Steen orders the crowd into a circle as he climbs atop of a giant speaker, shirt abandoned at this point. He's aware of the spotlight, but makes fun of the attention all the same. "Take it off, take it off," the front rowers scream at him. It's like surrealistic interaction between a jelly-legged punk cult leader and rabid followers, but it's high entertainment for a reviewer. Something infectious about Shame's often self-critical lyrics and instrumental abandon makes their crowds lose themselves in the blood-pumping noise.
When the circle starts moshing for 'Six Pack' at Charlie's final order, it's a rein of beautiful chaos. Beaming faces and sweat pouring down foreheads stare at the charismatic frontman as he launches into Songs of Praise track 'Tasteless' - plus Food for Worms numbers 'Burning By Design' and 'Alibis'.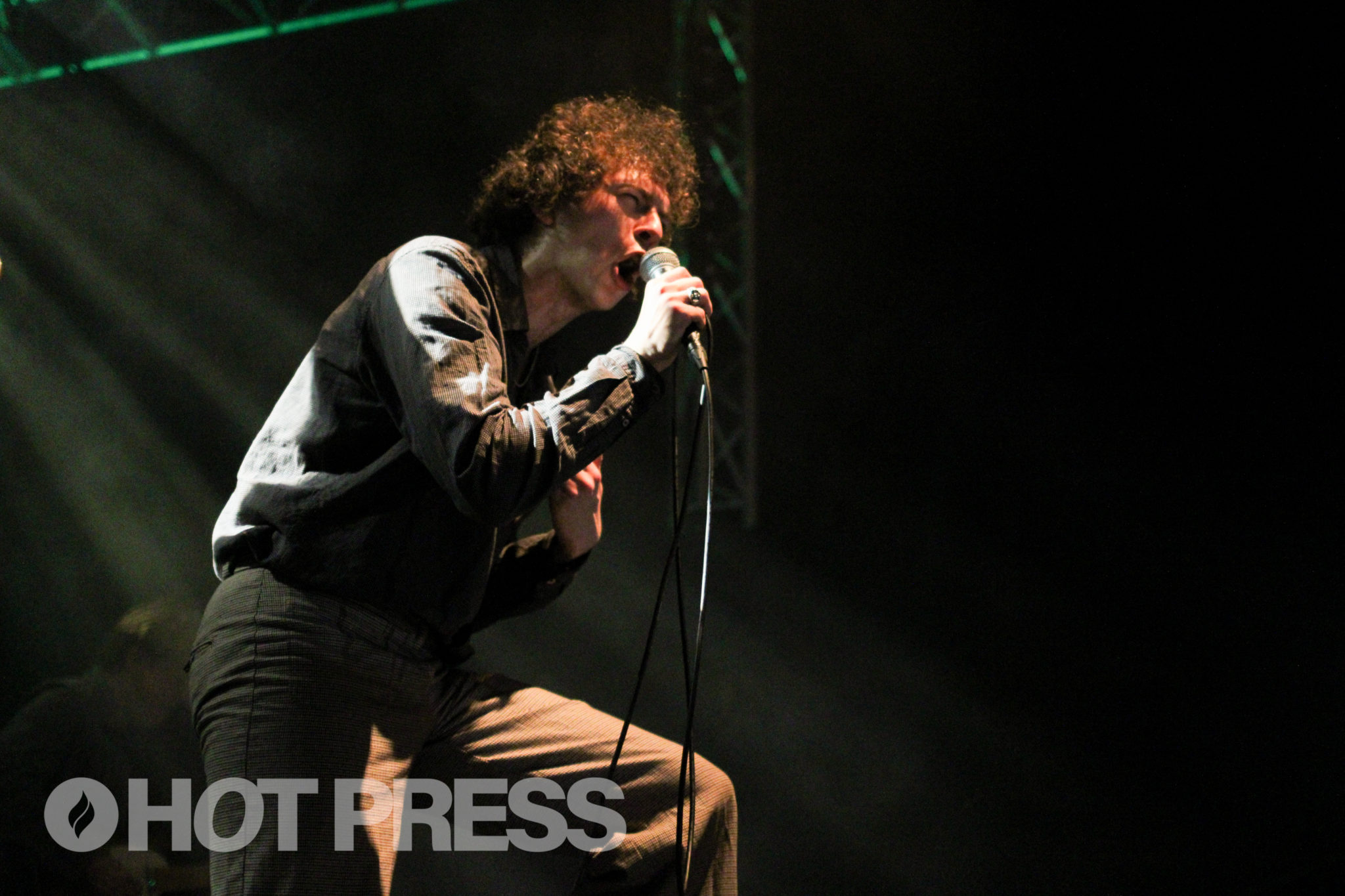 Down-tempo offerings like 'Burning By Design' see Shame come together sonically, all adding their voices to the lo-fi textures and introspective diary entries from Charlie Steen.
"I sold my life for you / You took my strife from me," he belts, his gravelly voice carrying through the entire room with ease, stopping anyone in their tracks. "You don't care about the feeling anymore / When it hits it's always raw / But you know it could be better." The changing of friend groups, the evolution of pals into people you hardly recognise, and the need to get through to a friend who won't listen are all common themes threading through their latest album.
Shame die-hard fans may disagree, but the band seem their most moving and powerful in the slower, more angst-ridden tracks. 'Adderall' is the most beautiful song in their entire catalogue. It's ultimately a gut-wrenching tune about watching a friend "pop and slip away," consumed by their addiction to prescription drugs. The catharsis and compassion is mesmerising.
Advertisement
Songs of Praise's 'Concrete', new release 'The Fall of Paul' and Drunk Tank Pink track 'Born in Luton' erupt the crowd. The latter receives rapturous belts of "Double locked, titanium steel / Curtains closed, the windows are sealed / There's never anyone in this house / If it brings you a smile, then it's worth a tear / I feel both of those things when you are near" as Steen's bandmates flex their guitar skills.
Wailing, shrieking riffs come alive from Eddie Green and Coyle-Smith while drummer Charlie Forbes keeps up the momentum. Bassist Josh Finerty maintains the lifeblood pacing, each member looking like they're having the time of their lives - much like the fans.
The aforementioned 'Adderall' takes things down a notch, with spine-tingling results. More pointed, nuanced anger is wonderfully channelled through the staccato beats, muscular guitars and strident vocals.
A downbeat Lloyd Cole-esque new song 'Orchid' and '6/1' deliver more punches before Drunk Tank Pink anthem 'Snow Day'. 'Different Person' is all about Steen's vulnerability, going inwards as they debut and trial Food For Worms in a live setting.
Riotous crowd pleaser 'One Rizla' features some of Shame's most recognisable, popular lyrics. "Well I'm not much to look at / And I ain't much to hear / But if you think I love you / You've got the wrong idea," Steen screams as the crowd support his every word. He reportedly hired a vocal coach, who encouraged him to channel rawness instead of detachment on the new album. The results are epic.
Advertisement
The communality and loving nature of slow song 'All the People' encapsulates the tightly forged bonds made by the band, who were barely out of their teens when Songs of Praise launched them to fame (and the dreaded 'post punk' label).  "All the people that you're gonna meet / Don't you throw it all away because you can't love yourself," Steen urges. Boyhood and grief clearly stir something in the attendees.
In between all the confessional everyday vignettes, guitar shredding and intense eye contact with the audience, there's a rake of hilarious moments. The guy who somehow lit a cigarette while crowd surfing must have felt like a rock god. That's how Shame make the predominantly male crowd feel, it's hard not to see. Even if some of them are fire hazards.
'Gold Hole' concludes the blistering set of old and new anthems, with an album that injects life back into the band of (platonic) brothers itself. "We love coming to your city, Dublin. To your country," the frontman grins. The feeling is mutual.
Let's hope they appear at Irish festivals this year. Once you experience the irrepressible intensity of Shame, it's hard not to chase the feeling forever.
READ - shame: "The band would've continued touring and reached extreme burnout if not for Covid"

Stream Food for Worms below. Read Shame's recent chat with Hot Press here.
Advertisement
RELATED