Live Report: Tyler the Creator, Megan Thee Stallion and more electrify Saturday's Longitude Festival
"Is this where the real hot girls at?" Megan Thee Stallion asks the riotous Irish crowd on Saturday night, making her Emerald Isle debut. What a statement she made, alongside the legendary Tyler, The Creator and his IGOR alter ego. Elsewhere, Rejjie Snow, Denise Chaila, God Knows, MuRli, EFÉ and Monjola delivered epic performances, plus key showings from Polo G, Bailey333, D-Block Europe and Unknown T.
While Saturday was Houston rapper Megan Thee Stallion's first Irish outing, Tyler the Creator performed at the last instalment of Longitude back in 2019. Seeing them appear on the Marlay Park stage, one after the other, when their stars have risen even further since then was something special, but plenty of other acts also tore up the Heineken and Main Stage yesterday for what has become Ireland's signature hip-hop festival.
Monjola kicked off proceedings at around 2pm, surrounded by fresh young faces with the sun beating down on the green park grass. Despite the sunny day, the London-based, Dublin rapper donned a peach hoodie and a laidback attitude for his Main Stage set.
He had a tough job to do, getting the crowd at the earliest slot to make their way up to the pit and join in with his energy levels, but he achieved the feat in style. Saxophone melodies and slick, funk-fuelled beats match Monjola's trademark tongue-in-cheek style of smooth lyricism and feel-good wordplay.
Performing brilliantly soulful alternative R&B hits like 'Smile' and 'Where u at', Monjola was running through the front barrier, engaging with the youthful audience and making sure they fired up the chants. He even highlighted one fan in particular for dancing and singing along when their friends weren't oitwardly showing love, much to the individual's feverish delight.
Advertisement
Up next was the divine Denise Chaila. If you're looking for the "Black James Bond", they're standing right here. The 'Anseo' star stomps on stage wearing a powerful black bejewelled outfit that would put catwoman to shame. Leather knee boots complete the ensemble, of course.
Having warmed up Ireland's stadiums with her Narolane brethren for Ed Sheeran's massive gigs, Chaila makes getting a crowd completely hypnotised and enraptured look easy. "I'm not a singer, I'm a rapper," the Choice Music Prize-winning GO Bravely artist declares. "This is a rap festival, and every artist is going to shut this stage down."
An eclectic setlist full of anthems and bangers ensues, cherry picked from Chaila's 2020 breakthrough EP and 2021's It's A Mixtape - including 'Return of the King', 'Energy' and 'Down'. Production maestro MuRli joins his Narolane Records co-founders, adding his flair to killer hits 'Anseo', 'Chaila' and '061'. If her 3Olympia Theatre headliner in February and stadium shows were anything to go by, her Longitude set was always going to be regal. And it is.
Over on the Heineken Stage, EFÉ kickstarts her performance with recent single 'KIWI', taken from her upcoming Vitamin C EP. Sporting a bright blue bob wig and vibrant button-up, she looks every inch the R&B star of tomorrow. Soothing the crowd with velvety vocals, the Dublin newcomer is a bright spot in the warm daze of an afternoon.
Advertisement
It also marks her Longitude debut. "Everyone get their flashlights going, alright? I want more, more flashlights!" she belts, before slowing proceedings down for a bit.
An instrumental interlude ensues with distorted guitars and warped vocals, before she starts into 'Warri'. The instruments hug her voice, allowing her singing to lead the way with sensual rhythm.
"This next one is a slow, so you can do a little tango with someone next to you," she tells the crowd, before the opening chords of 'Garden'. During 'Table For Two', she spots a "Marry Me" sign in the audience, leading her to explode into giggles.
Unreleased track 'Lovely Girl' offers Ariana Grande-esque vocals, heavenly production and lush harmonies. EFÉ picks up a blow-up electric pink guitar, air jamming alongside her band, then throws it into the crowd before kicking off fellow previewed single 'LIME'.
"I've wanted to play Longitude since I was 15," she declares, as a gang of her friends rush onstage in matching neon wigs, moshing to a fuzzy strings-led outro. An exciting artist to watch? For sure! EFÉ has arrved.
Advertisement
Over on the Main Stage, Ski Mask the Slump God unfortunately pulls out of the line-up last minute, due to "travel issues" – the band of just about everyone who thinks of hopping on a plane at the minute. It's a disappointment for the crowd, but DJs like Jax Jones and Irish dance act Belters Only bring on the hits, to maintain the energy levels.
UK drill sergeant Unknown T hits the Heineken Stage. As word spreads of his set, the crowd expands, taking up all of the tent's square footage. Before his first song, his MC preps the audience, injecting a higher sense of anticipation.
The 22-year-old Londoner runs out, spending little time onstage before he crawls into the audience. Weaving through the crowd, he kicks off with 'Fresh Home'. Before long, people can be seen scrabbling for a better view.
"Who's my biggest fan in this crowd right now?" he shouts into the mic. "I need energy!" And they bring it on. 'Deh Deh' sees the crowd on each others shoulders, waving Irish flags and staking a claim to the festival grounds. "You lot are lit tonight," Unknown T grins.
For '9er Ting' w/ KO and V9, he invites his friends and comrades onstage. They're in satisfying sync, picking up exactly what the other is laying down and then stacking it high. "Who said drill was dead?" he asks. "Is it dead? Is it?" The crowd respond with a vehement negative.
'Goodums' sees frenetic, speed-rapping at the bridge and booming bassline beats. The audience love him.
Advertisement
D-Block Europe are late to the Main Stage, so the DJ keeps the gig-goers occupied by playing hits like 'Goosebumps', 'Dior' and 'Money' (Cardi B) - interacting with the patient audience. The British hip hop collective consists of Adam Nathaniel "Young Adz" Williams, Ricky Earl "Dirtbike LB" Banton and Lil Pino from Lewisham, London.
At 6:10pm, they run onstage, kicking off with groovy rhythms. Offering previous singles like 'The Shard', 'Money Can't Buy Heart' and 'Make You Smile', the frontman flirts with the crowd. "Ladies, let's go," he grins. "High energy!" he belts before restarting the second track.
'Trap House' sees fun interactions with the crowd, the collective enjoying their time, unafraid to joke around. 'Ferrari Horses' features Raye's sleek vocals in the background, before they finish off with 'Home Pussy'.
Over on the Heineken Stage, Dublin-raised Baw Baw Black Sheep artist Rejjie Snow has a homecoming experience for the ages. The California-based star first exploded onto the scene with 2018 album Dear Annie.
"When I say Rejjie, you say Snow," commands the DJ, wrapping up a back-to-back banger set himself. The Drumcondra rapper glides onstage as his DJ drops into 'PURPLE TUESDAY,' to a warm welcome from his packed audience. The bubbly rapper is all smiles, pausing between his smooth, clear-cut vocals to allow for dance breaks. He maakes his intentions clear right away, chanting, "Let's blow the roof off this place, Longitude!"
Advertisement
'Désolé' produces a sea of waving arms, as neon purple lights dazzle us from the stage. He continues with the French titles, diving into 'Mon Amour' and floating around to the chirping birds in the background of the song. He has an undeniable, infectious energy that he injects into the crowd. He moves into a breakdance for the R&B-laced 'Egyptian Luvr,' remaining playful and energetic even through Aminè's recorded guest verse.
Snow creates a warm atmosphere with 'Sunny California,' invoking imagery of beautiful beaches, cloud-free skies and golden skin. He makes the most of his final moments, dancing with his hometown crowd and revelling under neon beams of light.
Chicago rapper Polo G (Taurus Tremani Bartlett) is up next, with the 23-year-old rising to prominence with his singles 'Finer Things' and 'Pop Out'.
Advertisement
He leaps into tracks like 'Flex, 'Dyin Breed', 'Epidemic', 'GANG GANG', 'Hate the Other Side', '3 Headed Goat' and 'Martin & Gina', his delighted audience clapping to the beats. He provides a more than decent warm up to Megan Thee Stallion, with plenty of young girls in the crowd sporting cowboy hats and Texas boots in honour of the almighty rap star.
"This my first time out here, I want y'all to turn me up," the San Antonio 27-year-old calls out to her feral fanbase. The time has come for her Irish debut, and the crowd are going wild in her name.
She jumpstarts her performance with 'Realer', querying, "Is this where the mothafuckin' real hot girls at?" – receiving high-pitched screams in reply. The rapper's stage presence is out of this world.
As she opens into 'Megan's Piano', the crowd knowingly ape the energetic star as she jumps up and down to the beat. She's dancing on her knees in no time, however - showcasing the impressive moves that got her noticed for 'Freak Nasty'. The bouncy cut from her 2018 Tina Snow EP criticises the sexual technique of her partner with humour and flair.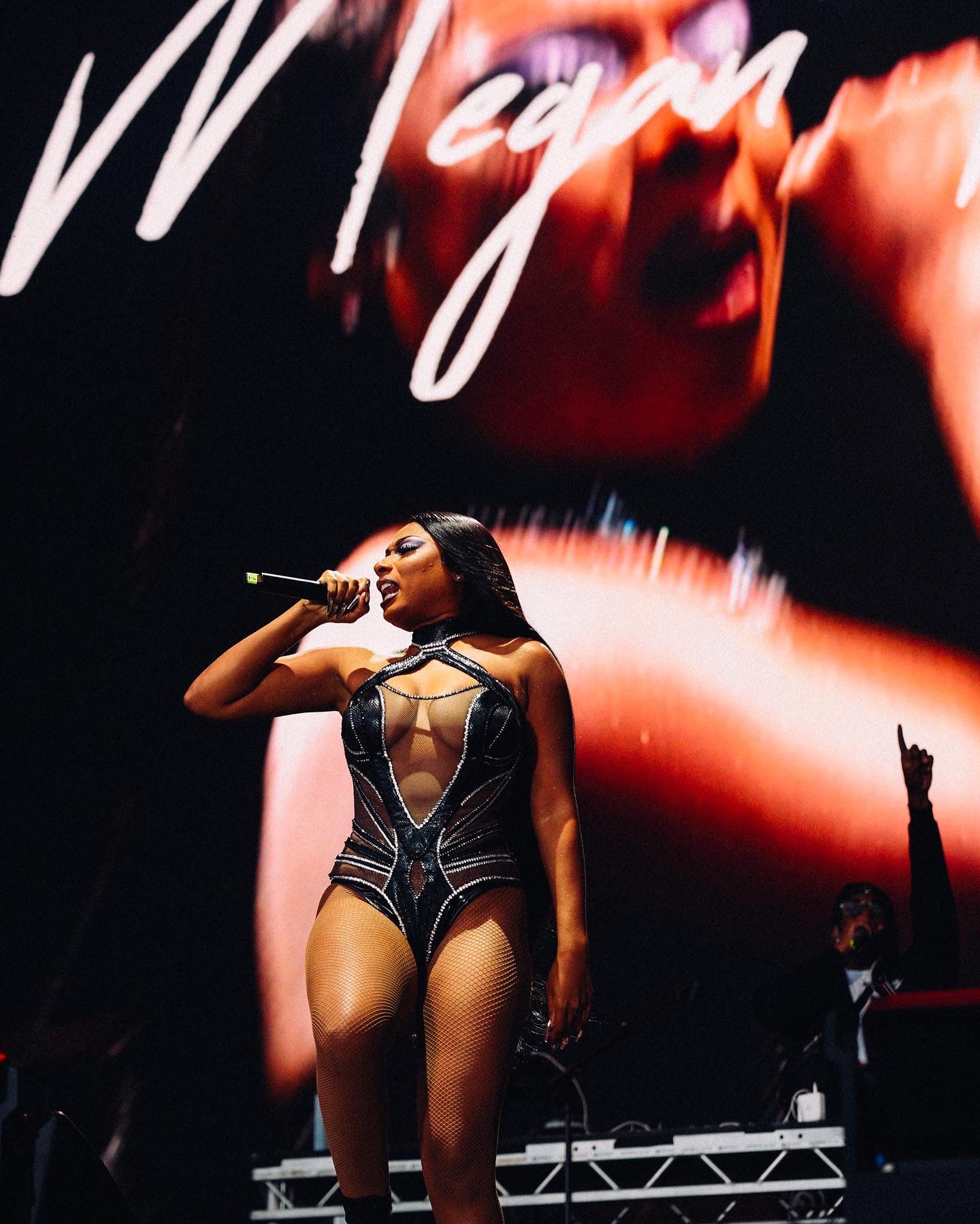 Looking down at the expansive crowd, she pumps them up for 'Simon Says' - a track from her 2019 mixtape Fever. Not merely the hottest new female rapper, but arguably the most high-profile new voice in hip-hop in recent times, she now has two No. 1 songs to her name – last year's impossible-to-avoid 'Savage remix' featuring Beyoncé and the more 'WAP'.
The Cardi B collaboration is next on her Longitude menu, and the noise from the audience feels overpowering.
Advertisement
"I tell him where to put it, never tell him where I'm 'bout to be, huh" she spits, young women in Marlay Park with their hands in the air at Thee Stallion's usual shout out to female pleasure and bodily autonomy.
"We're having a mothafuckin' hot girl summer," the Grammy winner smiles, launching into the infectious 'Body'. Her MC hypes up Megan's audience to the level she deserves, as hip-hop anthem 'Thot Shit' booms through the speakers. Southern-inflected beats and unprintably explicit hymns to female sexual empowerment are going down a treat in Dublin following her Worthy Farm debut.
The rapper almost starts a riot for 'Ride or Die' as she's joined onstage by brightly-dressed fans, twerking with her. Megan invites more followers onstage, signing their posters and calling out, "Hey, friend".
"Now y'all supposed to be up here dancing," she grins through her global hit 'Savage'. "C'mon hotties!" Her trademark 'Blah' gets riotous cheers from the audience, as she sticks her tongue out in Hottie style.
The Stallion gives it her all, and boy do we love it. Unapologetic dance moves and killer beats may be her bread and butter, but it's Megan's effortless, proud confidence and strength of personality that get her headline slots at festivals. The queen of Texas has found a new crown in Ireland.
Advertisement
Finally, it was time for Tyler. Since his last Longitude performance, the Californian has scooped up Grammys and unveiled soon-to-be timeless projects like Call Me If You Get Lost, paving the way for an even bigger set this year.
One of the most creative forces to come out of music in decades, Tyler the Creator has been cited as inspiration for some of the industry's biggest rising stars - and for good reason. His IGOR alter ego landed him endless accolades, cementing his status as a thoroughly unique talent.
The main headliner doesn't disappoint the packed out Dublin crowd, the young concert-goers lapping up his every word. He emerges, backpack on his back, complete with mountain jacket, furry hat and a pole to scale the heights other rappers fear to. And all while wearing shiny black loafers.
Opening with a snippet recording of 'MASSA', the 31-year-old Odd Future artist strides onstage to 'NEW MAGIC WAND', the incredible bassline reverberating through the park.
Fire spits from the side of the stage as mosh pits form of their own accord, the raucous crowd hyped beyond belief for the Saturday night headliner. 'LUMBERJACK' and 'WHO DAT BOY' involve intense pyrotechnics, the audience a sea of people jumping up and down at Tyler's demand. The rapper's visuals are partially inspired by Wes Anderson, with Tyler making fine use of props and a nature-inspired set.
Advertisement
He pays homage to his longer-standing fans with tracks from 2017's Flower Boy. '911 / Mr. Lonely' and 'See You Again' all made the cut, plus 'Yonkers' and 'She' from 2011's breakthrough album Yonkers. 'Boredom' sees him wrap an Irish flag around his shoulders, much to Marlay Park's ecstatic joy, as he dances across the stage.
Tyler allows the crowd to sing 'She' almost entirely alone, while he dances on a platform surrounded by landscapes and flames.
Call Me If You Get Lost introduces yet another new persona – Sir Tyler Baudelaire, presumably named after the decadent French poet. In a world where artists are expected to adhere to certain standards, its author remains a thrillingly messy and conflicted character.
Tyler begins to round out the thrilling night with tracks from his groundbreaking 2019 album IGOR. Alongside 'CORSO' and 'RUNITUP', nothing can top the powerful, raw 'EARFQUAKE'. The connection he enjoys with his crowd is hard to describe; there's something inexplicably magnetic about the hip-hop star whose work encompasses so much more than just rap.
Advertisement
Rather than show up with just an MC and a microphone, Tyler brings an all-encompassing experience to his shows, much like the likes of Kanye West. Visuals, props, fire, costumes, alter-egos: he has it all and the banger tunes to back it up.
The eclectic, sometimes controversial but forever enduring rapper remains at the top of his game. Long may he top the bill of Longitude Festival. It's Tyler the Creator's world, and we're all just living in it.
RELATED