Following another remarkable year for Irish music, CMAT won Album of the Year for her infallible No.1 debut album If My Wife New I'd Be Dead: "The word genius gets thrown around a lot these days, but I think this finally proves I am one..."
The RTÉ Choice Music Prize took place in Vicar Street last night (March 9), with reps from the nation's music industry flocking to the venue despite the apocalyptic downpour outside.
Hosted by 2FM's Jenny Greene, the night saw performances from Anna Mieke, Aoife Nessa Francis, Just Mustard, Pillow Queens and THUMPER - all of whom received nominations for the prestigious Album of the Year award for Theatre, Protector, Heart Under, Leave A Light On and Delusions of Grandeur respectively.
In a bittersweet sense, thought the venue was packed to the rafters, there were a lot of key faces missing from the audience - including winners and nominees. Given the intense touring schedule of artists post-lockdowns, the Choice Prize couldn't help their absence, and clearly supported the performers on their globetrotting jaunts.
A smiling Anna Mieke kicked off the night's performances with three down-tempo tracks, shimmering with her acoustic guitar noodling and atmospheric backing instrumentation. Watching Mieke play is to see her enter a bubble of her own making, completely engrossed in the soundscapes. Produced by Nick Rayner, the Wicklow native's 2022 album is universally viewed as beautiful record.
As said by Hot Press' Will Russell, "You sense from Theatre that Mieke has seen the world, and then some. 'Seraphim' – channelling Pakistani qawwali, Malian kora, Brazilian samba and Senegalese Wolof – suggests she was paying more than a little attention. Elsewhere, she makes John Jacob Nile's Appalachian folk classic 'Go Away From My Window' her own – some feat when Joan Baez and Linda Ronstadt are among the masters who have recorded it. A fine album."
Advertisement
Jenny Greene returns to the stage to present Irish Breakthrough Artist of the Year to Cork singer-songwriter Cian Ducrot, who accepts the gong from a busy airport, which gets a laugh from the crowd. The unassuming pop balladeer is over the moon with the win, which comes ahead of his support slot for UK charts titan Ed Sheeran at the 3Arena later this year.
Last year proved a turning point for the TikTok sensation. Following the release of his debut EP, the rising Irish musician enjoyed a whopping 35 million streams globally, making a name for himself at summer festivals Forbidden Fruit and Barn on The Farm and basking in his first Top 30 hit with 'All For You.'
#ChoiceMusicPrize: The award for Best Irish Breakthrough Artist goes to Cork's own @Cian_ducrot! He's currently on tour but accepted the award from...a glamorous airport 🛩️ pic.twitter.com/kCx5s3a8ed

— Hot Press (@hotpress) March 9, 2023
Over to Louth band Just Mustard for the second performance of the night. Katie Ball's ethereal voice acts as a siren call above a wall of immense noise from the Dundalk outfit, who's sophomore album Heart Under earned rave reviews upon it's release last year.
Advertisement
"Guitarists David Noonan and Mete Kalyoncuoglu drone and hiss, and Shane Maguire's primal drumming is seriously propulsive," Will Russell noted. The echoing surrealism of their David Lynch-inspired craft is on full show, forging a dystopian landscape around Vicar Street during 'I Am You' in particular.
Fontaines D.C, Dermot Kennedy, Cian Ducrot, CMAT, Biig Piig, Cian Ducrot, Lea Heart, Moncrieff, Ye Vagabonds, SELLÓ and Walshy were nominated Irish Song of the Year 2022 for hits like 'I Love You', 'Something To Someone', 'All For You', 'Nashville', 'Kerosene', 'All For You', 'Happier', 'Warm', 'Blue is the Eye', 'NO LOVE' and 'All Day (feat Nonô)'.
As previously announced on 2FM at 3pm yesterday, Moncrieff's 'Warm' was awarded the prize for Song of the Year, voted by the general public. Greene video-called the delighted Waterford artist from Los Angeles earlier in the day, and his disbelief was palpable.
Described as Moncrieff's "first-ever love song", 'Warm' is both deeply personal and infectiously catchy. A track about acceptance and dealing with another person's faults, it feels soothing, like a sonic safety net of sorts.
Speaking of the single at the time of its release, Moncrieff (real name Chris Breheny) said: "Nobody's perfect. This song is about being that person, and that rare moment in life when you find that person that truly sees you for you, your imperfections, flaws and scars as well as your good traits and loves you for them. It's a really comforting and happy feeling to just know that all you have to do is be yourself."
Advertisement
The (wonderfully shocked) @MoncrieffMusic accepts the @choiceprize for 'Song of the Year' from Los Angeles for 'Warm'.#ChoiceMusicPrize @EnergieMusik pic.twitter.com/tBdA1ROglX

— Hot Press (@hotpress) March 9, 2023
Sallynoggin's Aoife McCarthy, better known as Aoife Nessa Francis, takes to the Vicar Street stage to perform three tracks from Protector, released through Partisan Records last year.
"Protector is part of the new wave of pared back, indie-folk emerging on the Irish scene. Long may it last," Molly Cantwell said of the project.
Beautiful harp strings and heavenly vocals soothe the ears of the Choice Prize crowd before a surprise appearance from the iconic Sinéad O'Connor invigorates us all.
Advertisement
Ahead of the RTÉ Choice Music Prize's live event, the singer's I Do Not Want What I Haven't Got was announced as the winner of Classic Irish Album, in the first ever year of the category. The award for Classic Irish Album recognises "the significant cultural and artistic impact of a body of work by an Irish performer, band or collective that was released to the general public as an album at least 25 years ago."
Originally released in March 1990, on Ensign/Chrysalis Records, I Do Not Want What I Haven't Got was met with major critical acclaim, and topped the charts in multiple countries. The LP, which features tracks like 'Nothing Compares 2 U', 'Three Babies', 'Black Boys on Mopeds', and 'I Am Stretched On Your Grave', has gone on to be considered one of the greatest albums of all time. Revisit our original album review here, penned by the great Bill Graham.
"...If one's to play the game of finding her Irish literary equivalent," Graham said. "Sinéad O'Connor's archetype might be Francis Stuart, a similarly stubborn, stumbling, wayward spirit who was prone to headbutt truth in his youth. And rather like him, the mortal sin she most fears is not expressing the truth of - or the intensity of - her emotions. Which makes I Do Not Want What I Haven't Got an unflinchingly brave testament - and, conclusively, the first major Irish album of the new decade."
Introduced by 2FM legend Dave Fanning, who recently announced he's stepping back from his weekend show to work on other media projects, the attendees went absolutely wild when the 'Nothing Compares 2 U' musician emerged on stage. "I'd like to dedicate this award to all the refugees in Ireland - not just the Ukrainian ones," she quips, smiling before giving the middle finger in classic O'Connor fashion. Awards were never what she cared about for validation, but her presence alone brings an emotional side out of everyone in the room. I see plenty of misty-eyed music fans around me, gazing at her like a sonic goddess - as they should.
"Back in the 1980s, going way back, there was a band called In Tua Nua, and they had a lead singer - but they couldn't go on tour because she was too young," Fanning said in his introduction. "She was 16. So she made off to make a solo album. When she made the solo album, she was told she's not going to be able to produce the album. She said, 'Yes I am'. She said, 'I am going to produce this album'. And she did. And it became a huge hit. It was called The Lion and the Cobra, and then the next album was what everybody was talking about."
The judges said the 10 songs on her second album represented "a stunning body of work by an Irish artist, scorching with originality in songs that are as resonant today as they were more than 30 years ago."
Advertisement
"I love you very much and I wish you happiness," Sinéad said in her speech, addressing refugees. "Mashallah."
Dublin indie-rock quartet Pillow Queens deliver the fourth performance of the night, banging out tunes from Leave The Light On - including 'Be By Your Side' and 'Hearts & Minds'. They get one of the loudest cheers of the night, with plenty of their pals on the balcony supporting them.
The three-song set is reminiscent of their recent Vicar Street headline show, which marked a career highlight and lifelong goal for the four-piece, who were launched to fame after 2020's stunning debut In Waiting blew everyone away (rightly so). Shout out to Sarah Corcoran's Trans Rights badge and eye-catching suit game.
Advertisement
The Irish Artist of the Year award sees rock quintet Fontaines D.C. come out on top, after competing against CMAT, Selló, Dermot Kennedy and Talos at the RTÉ Choice Music Prize.
It's hard to deny the impact of last year's lauded third album, Skinty Fia. Acclaimed as "mighty stuff" by Will Russell in Hot Press, and afforded a rare 9 out of 10 on the Critical Mass number-o-meter, it also received 5-star reviews in Rolling Stone and NME. The US-based Pitchfork loved it. In the UK, The Guardian praised its "compelling insights" and The Irish Times made it their album of the year.
Which should come as no surprise, given that the Dublin-formed outfit's debut Dogrel landed out of nowhere on the Mercury Prize shortlist; and their second offering, A Hero's Death, garnered a Grammy nomination for Best Rock Album.
Unassuming guitarist Conor Curley walked across the stage to the podium, accepting the award on the band's behalf. Having just returned from a busy New Zealand and Australia tour in support of the album, plus welcoming the arrival of Carlos O'Connell's first child, the entire gang couldn't be present. Nevertheless, Curley gets a deafening reception for the hard work these last 12 months.
"Obviously, I'm not very good at doing this on my own," Conor says, grinning sheepishly. "I usually have four other individuals with me, but I just want to say that this is incredible. Honestly, seeing an award with 'Irish' on it is amazing because I think as a band, everything that we've done - being Irish and being Irish musicians - has been the most important thing to us. It's our biggest inspiration. To be in the room tonight with so many great Irish musicians is truly profound. Around every corner is a good friend, so I want to tell everyone here to keep the heart. Thank you very much."
Advertisement
THUMPER arrive for the final performance of the night, throwing scorching guitar wailing and two drum kits to give us songs from their debut, Delusions of Grandeur.  You wouldn't want to have sensitive ears for these six lads, honestly. My eardrums still have a ringing, but it was undeniably worth it.
Without further ado, it's time for the main event. The one we've all been waiting for: Album of the Year. Last year saw David Balfe's project For Those I Love scoop the gong for his self-titled debut. Every song on the project was written, recorded and mixed by Balfe in his mother's shed or in his bedroom in memory of his late best friend Paul Curran.
The winning act, selected by a panel of judges from a shortlist of ten albums, receives a prize of €10,000 – which has been provided by The Irish Music Rights Organisation (IMRO) and The Irish Recorded Music Association (IRMA).
The Irish Album of the Year nominees this year featured CMAT's If My Wife New I'd Be Dead, Fontaines D.C.'s Skinty Fia, Aoife Nessa Frances' Protector, Just Mustard's Heart Under, Dermot Kennedy's Sonder, The Mary Wallopers' The Mary Wallopers, Anna Mieke's Theatre, Pillow Queens' Leave The Light On, Sorcha Richardson's Smiling Like An Idiot, and THUMPER's Delusions of Grandeur.
David Balfe is enlisted to announce the winner, and the build up has been pretty intense. I hear a few guesses in the bathroom (The Mary Wallopers and Skinty Fia are thrown around by industry experts, though this journalist disagreed), but it's Global Pop Superstar CMAT's time to shine.
Advertisement
The round of applause makes it clear that everyone more than agrees with the outcome, as "Aldi CMAT" steps up to accept the prize on Ciara Mary-Alice Thompson's behalf. Otherwise known as the glorious Dublin drag queen Lavender, Aldi CMAT reads out the If My Wife New I'd Be Dead singer-songwriter's speech in her absence while she does her superstar thing in the Netherlands.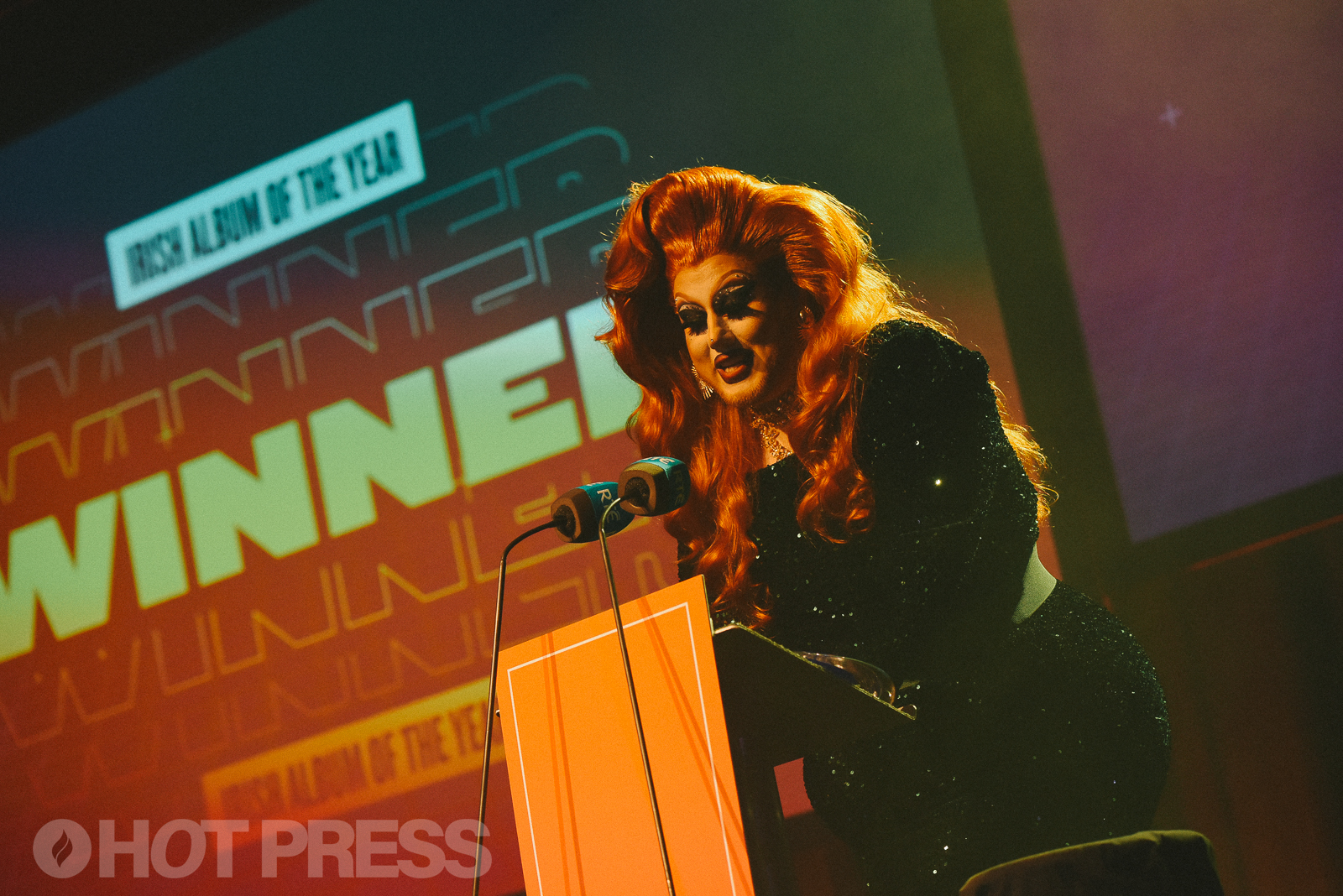 "The word genius..." Lavender starts, which earns a laugh. "The word genius gets thrown around a lot these days, but I think this finally proves I am one. If you had told me three years ago when I was working in Bewleys that I would win the Choice Music Prize for my first album I would have definitely believed you. Because I am delusional."
She described it as an enormous honour and childhood dream, and thanked members of her family. CMAT also gave a nod to her friend and collaborator Junior Brother (Kerry's Ronan Kiely), pointing out that his second album The Great Irish Famine should have been honoured in the category. (We don't disagree...)
"If My Wife New I'd Be Dead is undoubtedly one of the most thrilling Irish pop debuts of the century – and behind the Rhinestone Cowboy glitz and glamour, it establishes CMAT as one of the most fearlessly introspective singer-songwriters to have emerged from these shores in years," Hot Press' Lucy O'Toole posited in her review of the record.
And thus, the curtains close on another incredible year for Irish music. Who better to nab the crown than the artist who (independently) reached No.1 on the Irish Album Charts for a debut? Give her all the flowers, we say - and a podcast. Any platform that allows us to hear her unfiltered thoughts is gold dust.
Advertisement
Our one critique of the night was that Clondalkin's SELLÓ didn't perform, though we saw him in the crowd sporting a bold knit vest. Hand that talented man the mic, he's sitting right there.
RELATED