After a two year setback brought on by Covid restrictions, My Chemical Romance have embarked on their triumphant reunion tour. In Dublin, they were greeted by a fanbase as fervent and loyal as ever.
"Is the emo convention in town?" My god, you've never seen so many of them together at once. Where did they all come from? They're swarming the streets - like termites pouring from the woodwork. I say this affectionately, of course. Some may think emo died in 2013 when My Chemical Romance officially disbanded. Consider this the Dublin resurrection, even if it's just for two nights at the Royal Hospital Kilmainham.
We've dusted off our 10-year-old MCR t-shirts, fishnets, and docs to glimpse emo's last saviour for perhaps the first, or indeed the final, time. Will they be reuniting for good? Is a new album on the way? Could this be their last tour ever? We just don't know, we can't risk missing it, we must be present now.
I'd been on my feet for almost five hours before the headliners came on, waiting through a snaking line and two opening acts - Starcrawler and Gayle. The most loyal of the band's fanbase had been waiting even longer, having camped out in line the night before to ensure front row status. Some had even flown in from other countries to glimpse their idols.
See, this wasn't just a concert, it was a pilgrimage. The majority of the crowd had purchased tickets two years prior when MCR had originally announced the reunion tour in a simpler, less viral time.
Suffice to say, the anticipation was heady.
Advertisement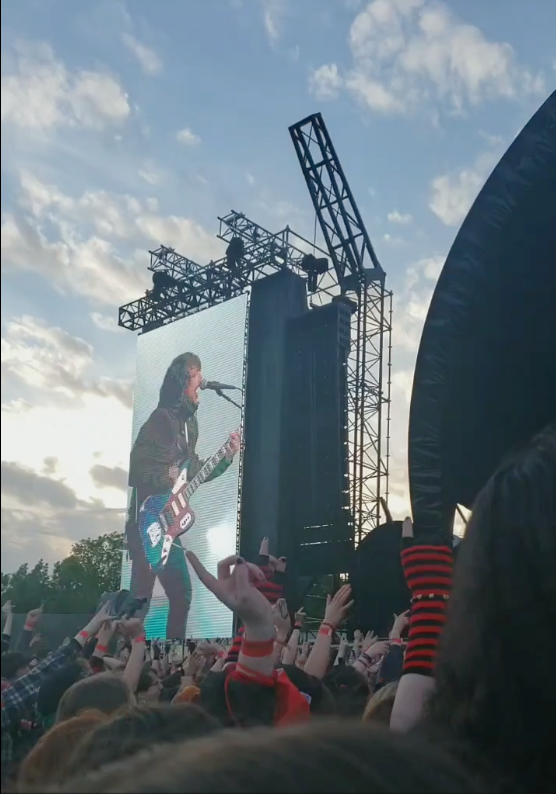 Stepping into the present...
The band finally emerges in an unassuming fashion. The glitzy costumes and sets of yesteryear have been tucked away. The Chemical (and Umbrella Academy) mastermind Gerard Way appears the classic everyman despite his near cult-like status. No, he's still a baby-faced thing standing at 5'7 with a gently lilting speaking voice that is instantly endearing. I was later shocked to find that he's all of 45. Between songs, he rambles semi-coherently about duct tape, notebooks, and the real joy of being back on tour after the pandemic's setback.
Way announces that - this time around - the pressure is off, they're here to have fun, queen be damned. His giddy enthusiasm is infectious as he throws himself around the stage, moppy fringe blowing in the artificial wind and fog.
"This next song is kind of a banger," Way says, mock-sheepishly, "But, I guess the last song was kind of a banger too… and the song after the next one is really a banger." I never remember on-stage quotes – but this one sticks with me. Because it's just the truth.
The night confirms what I already knew: the band, whose reputation unfortunately precedes them, is a proprietor of truly great music. Sure, the RHK set is a greatest hits compilation, but who could complain about hearing such iconic songs live? And there is no shortage of favourites.
For aughts kids, anthems like 'Teenagers' and 'Welcome to the Black Parade' are as ubiquitous as 'Stairway to Heaven' or 'Bohemian Rhapsody'. They're songs you recognise within the first few notes and revel in the fact that everyone in the crowd - like you - still knows every last word. They just don't make music like this anymore: stadium, sad-boy rock thrillers. They may be out of fashion, but they're never out of place.
Advertisement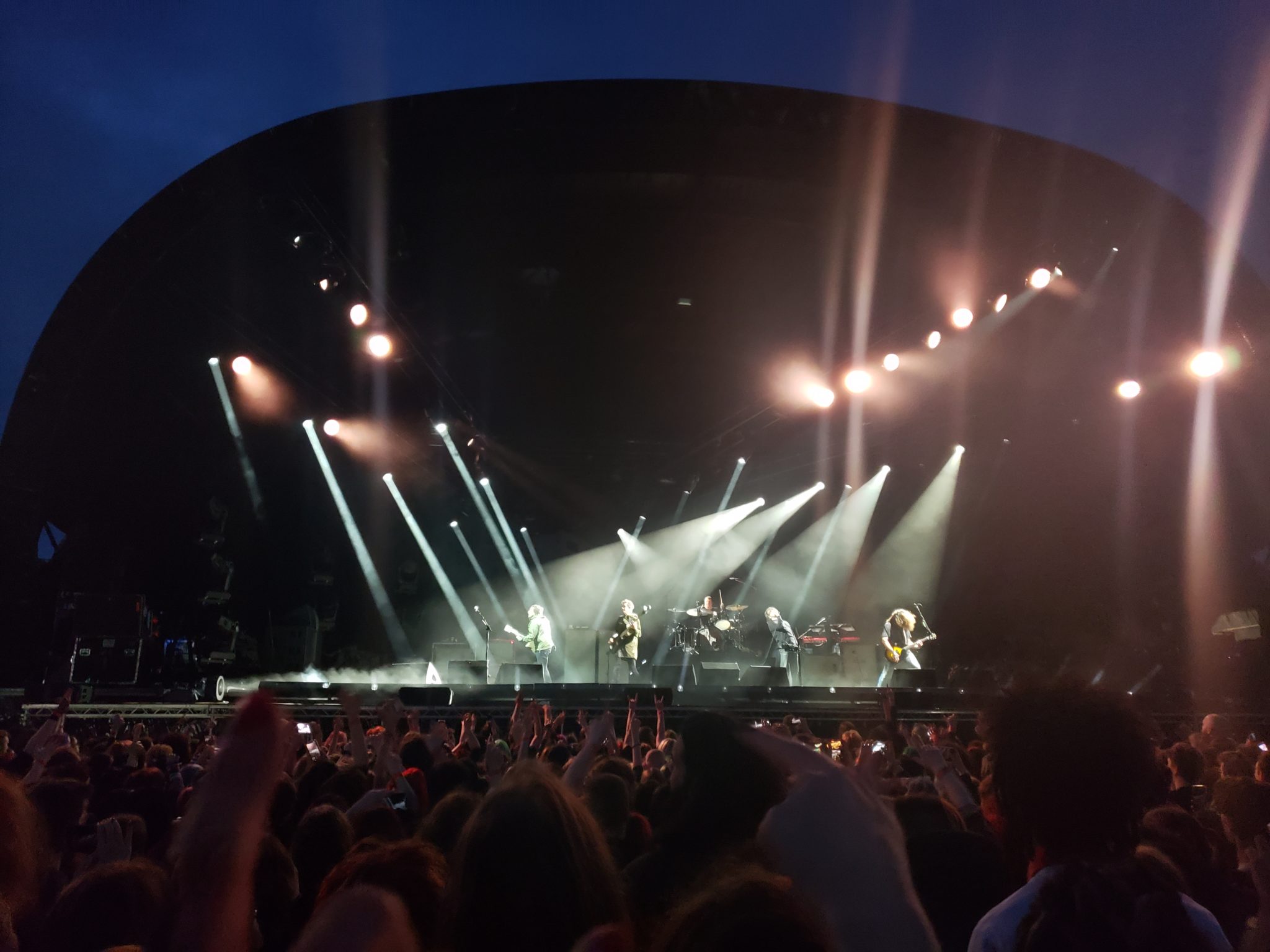 Tears are shed, loved ones are held, vocal cords are tested. I get a bit misty myself during 'Summertime', a song written for Way's wife who he met and married on tour with Linkin Park in 2007. The tune has held a special place in my own life for quite some time now. The 'out-crowd' joke is that this band is for people who had a hard time in high school – and the stereotype holds ground. The music was written by and for the queer, neuro-divergent kids who in the '00/'10s were desperate for an idol. It's no wonder the fanbase has remained loyal.
Now, a decade later, even after we've grown and healed, the music reminds us of that time we somehow got through. Look past the growing-pains to reconnect with the fringe-cut, converse-donning teenage selves of times past. We can empathise with them now with a new layer of understanding. So go ahead, scream through 'I'm Not Okay (I Promise)' with Gerard Way himself, even if you're laughing just a bit. We must credit these past selves: they're the ones who fought through so much to get us where we are now.
• My Chemical Romance's latest single 'Foundations of Decay' has been streamed over 9 million times in just two weeks. Listen to it below.
RELATED