DIY Irish pop artist EFÉ proved herself with an incredible performance for her first headlining show.
The crowd begins to roar as EFÉ skips onto stage, adorned in an oversized suit with a sparkly tie that matches her vibrant sky blue wig. With a gleaming smile on her face, the young singer-songwriter almost looked surprised that her fans are so excited to see her perform.
While the 22-year-old Dublin native (real name Anita Ikhar) only has a small selection of songs on streaming platforms, the crowd at Academy 2 knew every lyric. The energy in the room was unbelievable, with the personal setting of the stage making it easy for EFÉ to communicate with the crowd in between each song.
Lychee started off the night with a DJ set that was impossible to resist dancing to, setting the mood for the show perfectly. Originally from Vietnam and now living in Dublin, Lychee has made their DJ career working at various other local venues including Yamamori Tengu and Workman's Cellar. Their mixes were felt simultaneously like a ethereal dream and a crazed rave, resulting in a magical tone that had fans excited for what was next.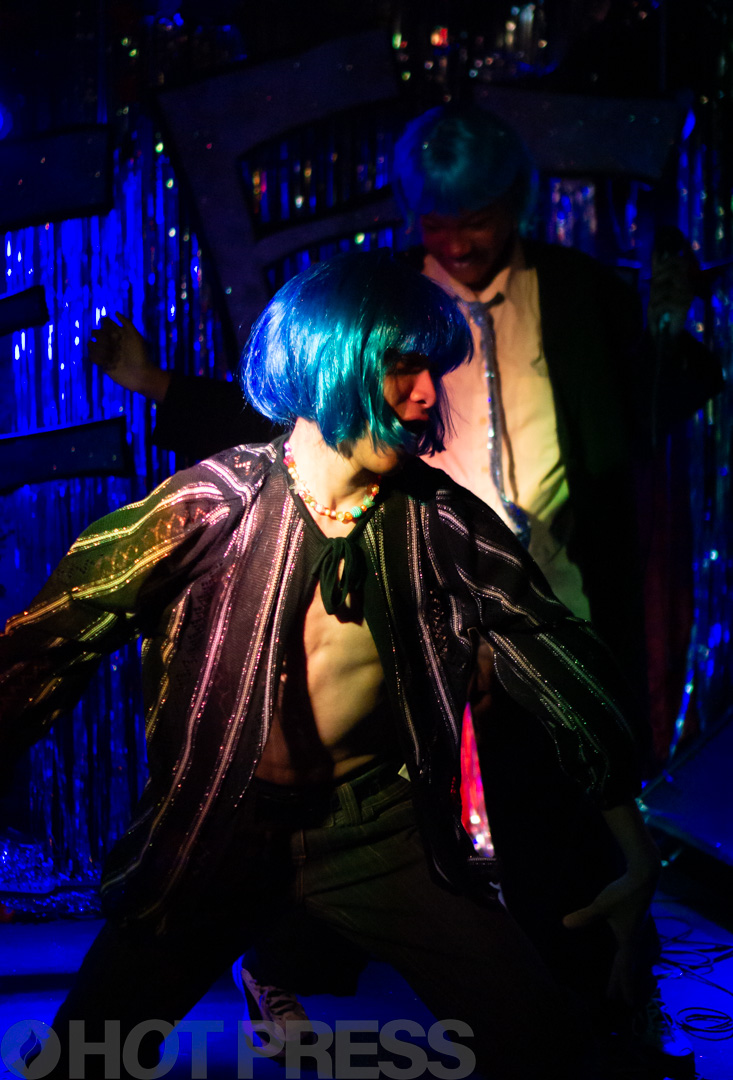 As soon as EFÉ graced the stage she immediately started talking to the crowd as if we were all her close friends that she hadn't seen in a long time. Her energy and smile was infectious, and her fans were living for every second of it. She started off her set with 'KIWI' from her latest EP Vitamin C. Her captivating presence on stage took effect right away, with the crowd dancing and swaying side to side while singing along.
Advertisement
The singer sets herself apart from the bedroom pop world with her playful sunny vocals and shimmering synth pads, paired with groovy guitar chords to make for the perfect summer playlist.
At one point in the set EFÉ got emotional, allowing the crowd to help her with the song since she was tearing up with joy. She continuously expressed her gratuity to the crowd, expressing how much it meant to her to be there and how much it touched her that so many people had come out to support her.
EFÉ ramped up the energy in the middle of her set by performing a cover of 'Pretty Girl' by Clairo, which caused an excited scream throughout the crowd when the beginning notes started to play. The comfort and mutual respect between the artist and the fans made for a welcoming environment, with everyone cheering EFÉ on and encouraging her success and confidence on stage. New single 'Loving Girl' and previewed EP track 'LIME' were also on the varied setlist.
The set ended with an unexpected but cheeky playing of some popular Nicki Minaj songs, at which the crowd broke into screaming and dancing while EFÉ danced around on stage, her guitarists wearing colourful wigs to celebrate the end of a successful show.
Although this was only EFÉ's first headlining performance, she outdid herself in every aspect. The excitement and happiness taking place on the stage radiated around the room, and everyone seemed to have smiles on their faces. It is safe to say that the rising star has a lively future ahead of her. She's winning hearts and minds with great tunes.
Advertisement
See photos from the show here. 
Listen to Vitamin C below.