By: Peter McGoran
Blended with the finest rums from the Caribbean and an unmatched recipe of natural spices, Sailor Jerry Rum is a favourite of both in-the-know mixologists and casual drinkers. Global Brand Ambassador aka The Rum Rude Boy Daniel 'Gravy' Thomas explains how one man's story inspired this most unique of spirits.
Gravy Thomas didn't come from a trade background. He spent most of his career working in music, managing bands and organising large scale productions, but when he came into contact with Sailor Jerry Spiced Rum – which celebrates the life of a counter-cultural tattoo artist who worked out in Hawaii during the mid-20th Century – he dropped his other gigs and picked up the title of Global Brand Ambassador for the beverage.
"Norman 'Sailor Jerry' Collins was doing revolutionary work in terms of tattooing in the backdrop of WWII," says Gravy, speaking from Philadelphia – his voice as passionate as you'd expect from a man who's been inspiring bar owners across the world. "He worked in his tattoo shop in Hawaii and there he became a hugely influential figure. With our rum, we make sure his legacy is remembered and celebrated."
Collins gained world-wide fame for marrying a unique pop-art style with the influence of South-East Asian tattooing. It became revolutionary in its own way, and the Sailor Jerry brand sought to embody his free-spirited lifestyle.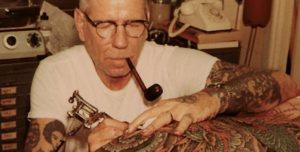 "He took his own idea of tattooing to another level," Gravy explains. "It's exactly what's happening with bartenders now. They're taking our rum and using it as a gateway for their own amazing cocktails." Sailor Jerry became famed for their story and approach to branding, but it's the quality of the beverage itself which has earned them consistent praise from the bartenders.
Advertisement
"Our rum is a really delicious blend," Gravy tells me. "We're very lucky to be part of the William Grant & Son's family – which covers the likes of Tullamore D.E.W., Glenfiddich, The Balvenie – so the craftsmen who blend those whiskeys also work on perfecting our rum. What you get is an 80-proof blend of Caribbean spices – you've got nutmeg, cinnamon, hints of vanilla in there – all of which give it its unique character."
The rum is crafted with the same kind of inventiveness and attention to detail that Sailor Jerry put into his own art.
"Bartenders approach us and tell us that it's the right ingredient for their cocktails," Gravy stresses. "Or they tell us it pairs perfectly on its own with ginger. The reason for that is that it's not too sweet, it's not overpowering with the spices – it's just right. Bartenders appreciate the fact that we're not coming at them with high-end mixologist recipes or classes. This is a no-nonsense drink that speaks to everyday people, as well as those who have a more mature palette in the spirits business." Gravy's enthusiasm for his role is truly infectious. He says it comes purely from his engagement with the brand's history.
"When people read the back of the bottle, when they learn that there was an actual man's story behind this drink, they get the passion behind what I do. They get the realness of it. They understand why I'm always excited when I meet them!"
Sailor Jerry has just recently rebranded its image, with the bottle now featuring a bold new design which encompasses classic elements of the tattooist's work and seeks to maintain a closer link to the artwork. Gravy, who divides most of his time between the East Coast and Dublin, also stresses that the brand resonates with Ireland's art and music scene.
"My job is to go out and engage with managers, artists, musicians, as well as bar owners," he says. "We hang our hat on the world of art and music. We have a rock'n'roll ethos. We felt that the language, the energy, the freedom of expression that Sailor Jerry lived by – that chimed with a lot of the DIY musicians and artists of today. We've been working with people who are being creative on their own terms."
Follow Gravy on IG @gravyontherocks and find out more about Sailor Jerry Rum at https://sailorjerry.com/en/
Advertisement